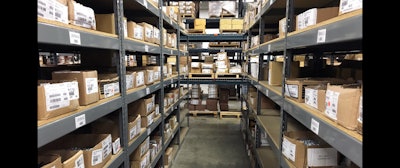 In January 2012, Industrial Distribution premiered its Watch List in an effort to shine light on the kind of distributor that might not make our annual Big 50 List. Some of these companies are too small; some don't fit into the traditional MRO niche that the Big 50 has carved. Yet this series of short profiles takes a look at the "ones-to-watch" outside of the 50 biggest MRO distributors — notably those that are taking steps to improve operations and grow their business through acquisitions, training and development, product line expansion, or other best practices.
ID implored the input of a handful of well-known industrial associations and buying groups to find these distributors. There are many more worthy companies out there. Feel free to reach out to ID editor Mike Hockett at [email protected] if you think your company should make next year's Watch List.
Congratulations to this year's honorees, listed in alphabetical order.

All Industrial Tool Supply
Headquarters: Huntington Beach, CA
Founded: 2010
President: Jeff Perry
2015 sales: $3.9 million
2016 sales (estimate): $5.3 million
Total locations: 1
Total combined warehouse square footage: 4,320
Total employee headcount: 9
Website: www.allindustrial.com
Do they offer e-commerce: Yes, began offering in 2011
Awards: Ranked No. 2,232 on Inc.com's 2016 Inc5000 list of the fastest growing U.S. small businesses. Also included in the Orange County Business Journal's list of fastest growing small companies.
Notes: All Industrial was founded in 2010 and began offering e-commerce one year later. It certainly got ahead of the curve, as two-thirds of the company's revenue is driven by online sales. ATS just launched an enhanced e-commerce website that offers more than 150,000 metalworking tools and industrial supplies and is currently implementing a new ERP system. ATS added 50 percent more square footage of warehouse space in 2016 and plans to look for a much larger facility (8,000-10,000 square feet) in 2017.
Perry commentary: "I started this company in the heart of the great recession with a $1,300 opening deposit in my business checking account. Working in the spare bedroom of my home and a corner of my garage as the company's first warehouse, I thrived by keeping my expenses low and offering a different level of service my customers grew to appreciate. Today All Industrial Tool Supply is a company on the verge of explosive growth. We have weathered the storm and believe we are in a position to become an industry leader within the next five years. Having graduated from the Goldman Sachs 10,000 Small Businesses program in 2015, I have a five-year growth plan that details how we will get to $10 million in sales by 2020 and we are well ahead of schedule. Last year was an important one for us as we added four new team members, joined the IBC buying group, added a dozen vendor partners and our success in revenue growth validated our hard work in implementing the growth plan."

Amazon Hose & Rubber Company
Headquarters: Orlando, FL
Founded: 1919
President: Jim Donlin
2015 sales: $12.6 million
2016 sales (estimate): $12.9 million
Total locations: 3 (fourth coming in Spring)
Total combined warehouse square footage: 125,000
Total employee headcount: 66
Website: www.amazonhose.com
Do they offer e-commerce: Yes, began offering in 2015
Recent awards: Named 2014 Manufacturer of the Year by the Manufacturers Association of Central Florida, and was runner-up in 2015. MACF also named Amazon Hose its 2015 Top Woman-Owned Business.
Notes: In 2014, Amazon Hose & Rubber Company moved into a brand new 50,000 square foot facility in changed to an Infor operating system and a new phone system. In February Amazon will open its new concept store -- a 6,600 square foot Continental Hose Service Center — in South Orlando to handle walk-ins and exiting customers.
Donlin commentary: "Over the last five years we have gone through a modernization of our business while growing it in some very tough economic times in the industry. New facilities, new equipment and a new operating system have us positions for significant growth. We are one of the few companies in Florida to have a 10-inch crimper, which allows us to crimp larger bore hose for new markets."

GME Supply Co.
Headquarters: Columbia, MO
Founded: 2005
President: Beau Aero
2015 sales: $17.3 million
2016 sales (estimate): $21.3 million
Total locations: 2
Total combined warehouse square footage: 55,000 (will be 130,000 in Spring)
Total employee headcount: 38
Website: www.gmesupply.com
Do they offer e-commerce: Yes, began offering in 2005
Recent awards: 2016 AD 2016 Conversion award; 2016 Certified Google Trusted Store; 2014, 2015 and 2016 National Association of Tower Erectors Infinity Award; Aero named one of Columbia Business Times' 2015 20 under 40. GME also earned a handful of notable awards in 2014.
Notes: GME is a contractor supply company, focusing on the safety and productivity of America's builders. Its focus is away from MRO, rather focusing on technical expertise and product innovation for more difficult operations. GME opened an Atlanta, GA facility in November of 2015, adding 30,000 square feet of warehouse space and a 3,000-square foot learning center. The company aims to complete a new 100,000 square foot facility in Columbia, MO this March. GME recently switched a new Epicor ERP and Wireless Warehouse system and a fully integrated CRM/BI enterprise solution.
GME commentary: "On the job, we keep workers both safe and productive. Founded in 2005, GME has quickly grown to service the needs of a variety of industries, including cell tower maintenance, tower and steel construction, oil and gas, wind generation, residential and commercial construction, manufacturing, maintenance and more. We are a worldwide distributor of industrial supplies, PPE, fall protection safety equipment, traffic safety supplies, work wear, lifting and rigging equipment, professional power and hand tools, work equipment, gear bags, canvas buckets and related products for commercial and industrial applications."

Industrial Tooling & Supply, Inc.
Headquarters: Anniston, AL
Founded: 1983
CEO: Richard A. Powell
President: Jayme Mancill
2015 sales: N/A
2016 sales (estimate): N/A
Total locations: 6
Total combined warehouse square footage: 26,000+
Total employee headcount: 36
Website: www.its-supply.com
Do they offer e-commerce: Yes, began offering in 2015
Notes: Founded in 1983, I.T.S. specializes in the application of cutting tools and abrasive technology with the goal of reducing customers' manufacturing costs. A female majority-led company, I.T.S.'s top level of management has a combined 123 years of industry experience. The majority of its employees have been with the company at least 10 years, and 56 percent of its total headcount is female. I.T.S. opened its Daphne, AL location in November 2015 to support and service its customer base in south Alabama and the Florida panhandle. This past fall, it opened a new branch in Katy, TX, about 30 miles west of downtown Houston. That branch serves the needs of industrial customers in central and southeast Texas. The company launched a new e-commerce website in 2016 with punch-out catalog capabilities and updated its CRM and analytical software, as well as its internal hardware. I.T.S. is currently implementing sales order automation software. All I.T.S. sales staff are equipped with iPads.
ITS commentary: "I.T.S. believes our company's reputation is our employees and they are our greatest asset. Therefore, we are always investing in them, whether it be product or professional skills training."

Mallory Safety & Supply
Headquarters: Longview, WA
Founded: 1974
President: Tim Loy
2015 sales: N/A
2016 sales (estimate): $100 million+
Total locations: 15
Total combined warehouse square footage: N/A
Total employee headcount: Nearly 300
Website: www.malloryco.com
Do they offer e-commerce: Yes
Notes: Mallory has grown from $10 million in 2004 to sales to more than $100 million in 2016. President Tim Loy, Mallory's second-generation co-owner, has put his JD/MBA and brief experience as a mergers and acquisitions lawyer to use, as Mallory has acquired 15 distributors, including two in 2016 — RJ Safety (San Diego, CA) and Anderson's Western (St. Helens, OR). Mallory's upper-end safety services include a training division focused on at-height and confined space, a safety consulting division that provides gas monitors and breathing apparatus and other technical safety services to safety intensive customers. Mallory also offers its own vending solution, Snapvend, to its own customer base and other distributors across the country. Loy says Snapvend is probably the closest parallel to the Fastenal vending platform, low-cost coil and locker machines running on a web 2.0 model.
Loy commentary: "To deal with the significant channel convergence of generalists entering and expanding in the safety space, Mallory has gone in the reverse with a two-pronged approach — go more technical with safety services beyond what a generalist offers, while also broadening the product mix and supply chain services to directly match the offering of the generalists. The combination of high-end safety capabilities and expertise in production of abrasives, cutting tools and related MRO products has allowed Mallory to be successful in defending and winning large customer contracts that were trending toward generalists."

TIPCO Technologies, Inc.
Headquarters: Owings Mills, MD
Founded: 1888
President: Rob Lyons
2015 sales: $19.5 million
2016 sales (estimate): $21 million
Total locations: 12
Total combined warehouse square footage: 110,000
Total employee headcount: 72
Website: www.tipcotech.com
Do they offer e-commerce: No
Recent awards: Named to Continental Contitech's Circle of Champions Top 20 and Eaton's Top 24.
Notes: With nearly 130 years of company history, TIPCO's product offering between hydraulic hose & fittings and industrial hose & couplings is split nearly 50/50, whereas president and owner Rob Lyons notes most traditional distributors focused on the flexible connections market are weighted heavily one way or the other. In the past few years TIPCO has been busy opening dedicated fabricating facilities and creating three divisions — Gasket & Sealing, OEM Services and Metal Hose Technologies. As part of continuous improvement project, TIPCO has segmented its top customers to a Prophet 21-powered program it calls TIPCO Platinum Preferred, which contains 52 customers as of late December receiving a variety of benefits. TIPCO relies on iPads for its sales force to use for presentations and order management. TIPCO will open another Eaton Aeroquip Express Hose Center on Feb. 17 in Fredericksburg, Va.

Tools Unlimited, Inc.
Headquarters: Stoughton, MA
Founded: 1993
President: Kerry Pires
Owner & Vice President: Stephen Pires
2015 sales: N/A
2016 sales (estimate): N/A
Total locations: 1
Total combined warehouse square footage: 16,000
Total employee headcount: 11
Website: www.mytoolstop.com
Do they offer e-commerce: Yes, began offering in 2015
Notes: Founded by Kerry and Steve Pires, Tools Unlimited is a distributor of industrial, construction and safety supplies. In 2015 the company launched a new home website and e-commerce offering at www.mytoolstop.com, which gives customers access to more than 70,000 products online. Tools Unlimited also provides free delivery all over New England in its own delivery vehicles. The company has been a Certified Supplier Delivery Office and Women's Business Enterprise since its 1993 founding and says it has received zero complaints since its Better Business Bureau accreditation in 2009.
Kerry Pires commentary: "When Stephen and I first started this business 24 years ago we based it on honesty, integrity and always putting our customers first. We surrounded ourselves with an amazing team of family and friends who are the heart of our company and have helped us grow Tools Unlimited into the successful company we are today. Success does not happen without hard work and sacrifice, but as I've always told our children, effort equals success. As we look to the future we plan to add employees and expand our ecommerce site. One thing that won't change is our commitment to our customers and employees."

Western States Tool & Supply
Headquarters: Hayward, CA
Founded: 1985
President: Al Talbot
2015 sales: $10.5 million
2016 sales (estimate): $11.9 million
Total locations: 1
Total combined warehouse square footage: 45,000
Total employee headcount: 24
Website: www.westernstatestool.com
Do they offer e-commerce: Yes
Recent awards: Named a Hougen Manufacturing Top 10 National Distributor, a Stihl Platinum Distributor and a Multiquip Elite Dealer.
Notes: Western States Tool & Supply is a full-line distributor, servicing the needs of the industrial and construction needs of the San Francisco Bay area and northern California. With its partnership agreements, Western States is able to ship from nearly 20 warehouse locations across the country in addition to its sole branch headquarters location in Hayward, CA. Western States offers a range of services, including customized restocking and managed inventory, in-house private branding on Louisville brand ladders and industrial hose fabrication. Western States' in-house repair services cover gas, pneumatic and compaction equipment, power trowels, compressors, pumps and pressure washers. Its repair facilities include concrete test pads and a compaction pit for real-world testing. The company says it is a one-stop-shop for the steel erection and metalworking industry. Western States has acquired assets and employees from three Bay Area industrial distributors in the last several years.
Western States commentary: "Our employees are the key to our ongoing success. Their commitment to customer service is really what sets us apart. With a long-term staff experienced in all levels of operations, Western States continues to be a reliable, dependable full-service supplier to our ever-growing customer base."