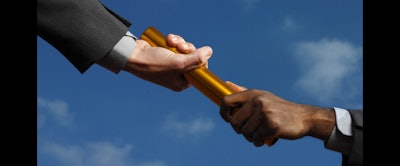 A Census Bureau report reveals that by 2029, when all Baby Boomers turn 65 years or older, they will represent 20 percent of the U.S. population. With more and more Baby Boomers reaching and even surpassing retirement age, organizations need to focus on creating a succession plan to recruit and train top talent.
Supply chain management researchers at Auburn University and Central Michigan University conducted a study that found that only 12.5 percent of companies surveyed engaged in formal succession planning — a number that is far too low.
Overcoming the increasing amount of senior-level retirements in the supply chain and logistics industry requires intelligent and ongoing succession and recruiting practices. Here's what you need to know to plan internally and externally to keep the talent pipeline full and keep a company thriving, despite rapid leadership retirement.
Planning From The Inside Out
Experienced employees possess the necessary technical knowledge, skills and client relationships that keep their companies growing. Manager and leadership retirements can therefore cause issues if adequate measures have not been put in place. To meet immediate needs, a balanced mix of internal and external staffing is a great way to retain top talent.
Evaluate your existing pool: An important first step to creating a succession plan is to conduct continuous evaluations of internal staff. By using a rating scale evaluation, managers can compare the skills of a candidate next to others. Building this into an employee's annual review will easily determine where an internal candidate stands from a leadership perspective and help the employee understand what areas they can improve upon to reach the next level.
Curb unwanted turnover: It is also crucial to monitor turnover and why it may be happening to develop a more effective succession plan. Studies show that common reasons behind why an employee may leave a company include salary concerns and desire for a better work-life balance. To create leaders from within, companies need to focus on retaining their top employees through a winning combination of competitive benefits coupled with attractive salary.
Tap into external networks: With the current rate of rapid retirement at the leadership level, building relationships with recruiting companies may be the key to an organization's short-term and long-term success. Recruiting firms can help supply the talent that top-tier companies want. Specialty firms can provide large pools of qualified, specialized candidates to fill urgent hiring needs, and they become even more necessary for succession planning when experienced staff is needed.
Making The Right Hires More Often
Succession planning requires a forward-looking approach, and to be most effective, companies need to ensure they are making the right hires from the very start. In a perfect world, every employee would have the potential to become a leader in the company. The following are a few tips for hiring the next generation of leaders.
Define the job description: Clearly define both the hard and soft skills needed to excel in the position, as well as the required experience, demands of the position and expectations of your company. Remember to be as specific as possible when creating the title and description.
Target the right candidates: To avoid a pool of unqualified applicants, look beyond general job boards and websites and instead focus on industry-specific job boards and social media groups. LinkedIn is a great resource for locating targeted groups and discussion boards that you can use to engage with job seekers and promote your company as an industry leader. Once you begin receiving applications, you'll want to make sure your candidates meet the minimum requirements of the job, and then conduct phone interviews and skills tests to narrow down your talent pool.
Make a decisive and competitive offer: Talented, qualified professionals are difficult to find and you don't want to lose a candidate to a competitor. Once you find the ideal candidate, don't delay. Research the salaries in your area to make sure your offer is fair and compelling.
By following these best practices for succession planning, you will be on the right track to recruit and retain the next generation of leaders. Through a comprehensive succession planning strategy that includes proper recruiting, hiring and retention procedures and processes, companies can continue to prosper even in this time of leadership transition.
Tisha Danehl is vice president at Ajilon Professional Staffing.