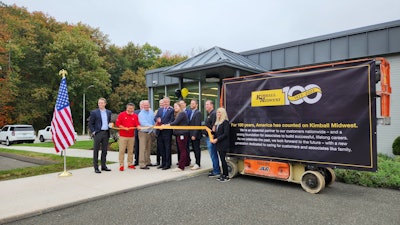 Kimball Midwest
NEWTOWN, Conn. — Kimball Midwest continued its centennial celebration recently with events at its newest distribution center in Newtown, Connecticut.
The Oct. 6 event also served as a grand opening celebration for the Newtown Distribution Center, which began operations in late 2022 to serve customers throughout the northeastern U.S.
"We're grateful to have found such an ideal location in Newtown," Kimball Midwest President Patrick McCurdy said. "We appreciate the welcome we've received from the community and look forward to partnering with them for many years to come."
The company is holding a series of events to honor its 100th anniversary throughout 2023. Notable among them is a community campaign to celebrate the milestone in which Kimball Midwest has donated more than $1 million across the country. Each sales region, corporate department and distribution center received money for associates to donate to a qualified charity of their choosing.
The company's Newtown Distribution Center associates selected Sandy Hook Promise, a national nonprofit organization, as their charitable contribution as part of the community campaign. The organization, founded and led by several family members whose loved ones were killed at Sandy Hook Elementary School on Dec. 14, 2012, works to protect children from school shootings, violence and other harmful acts. Its mission is to educate and empower youth and adults to prevent violence in schools, homes and communities.
Mark Barden, co-founder and CEO of Sandy Hook Promise, represented the organization at the event.
"When given the opportunity to choose a nonprofit to donate to on behalf of the Newtown DC and Kimball Midwest, we knew we wanted to choose a local nonprofit that has meaning to the community," Newtown Distribution Center Manager Tracy Bosley said. "Newtown is a tight-knit, family-based community; the tragedy in Sandy Hook was something that affected everyone here and across the nation in a profound way.
"To see good come from such a dark place have an impact not only at a local level, but a national level, made choosing Sandy Hook Promise an easy choice for us. The work Sandy Hook Promise does is meaningful and close to our hearts. We hope this contribution helps them continue to reach as many people as possible and provide a safe environment for children in all communities."
Newtown First Selectman Daniel Rosenthal, the town's top local official, also spoke at the event, which also was attended by state Sen. Tony Hwang, state Rep. Mitch Bolinsky, state Rep. Martin Foncello and several other local officials.
"The investment Kimball Midwest has made and will continue to make in the Newtown community is significant and appreciated," Rosenthal said. "Our Economic Development Commission and local fiscal bodies also recognized the importance of attracting a well-run and growing business like Kimball Midwest, and I am grateful for their support of this endeavor, as well. We look forward to working with and supporting Kimball Midwest well into the future."
On Oct. 7, Kimball Midwest's Newtown associates and their family members gathered at Silverman's Farm to celebrate the company's centennial and spend time together.
The Kimball Company was founded in Cleveland, Ohio, in 1923. In 1984, it joined with Midwest Motor Supply, which had been founded in Columbus, Ohio, in 1933, forming Kimball Midwest. From its roots as a regional automotive supplier, the company has experienced consistent growth, with sales going from $1 million in 1983 to more than $400 million in 2022.
Its presence has spread from Ohio to every corner of the contiguous United States. The Newtown Distribution Center joined existing locations in Dallas, Reno, Nevada, and Savannah, Georgia, as well as the corporate headquarters in Columbus, Ohio.