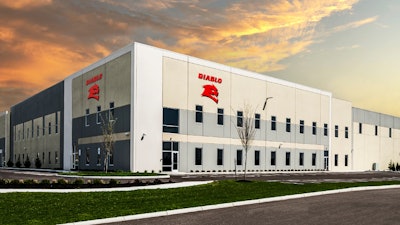 Diablo Tools
ATLANTA — Diablo Tools this week announced plans for a new, state-of-the-art 531,000-square-foot warehouse and distribution facility that will open in North Carolina's Piedmont Triad area in early 2024.
The new "Diablo Super Center" facility in Kernersville will double the current U.S. storage capacity and feature the most advanced technology across the globe, including high-speed sorters and carriers that will modernize distribution operations. The upgrades will reduce the current processing time and allow for faster order fulfillment for all customers.
Among other revolutionary technology upgrades, this facility will offer same-day shipping to all dealers in the U.S.
Providing all Diablo dealers with the products they need in the fastest way possible, while also providing the highest customer service, is a top priority for Diablo. This Super Center will update the current distribution process and provide better efficiencies throughout all warehouse operations.
"This unmatched warehouse upgrade is creating the new standard in distribution operations," said Russell Kohl, president and CEO of Diablo/Freud Tools. "By doubling our current storage capacity, we will continue to dominate the industry by getting more Diablo products in the hands of our dealers and users at a faster rate. At Diablo we lead in new technologies, and we continue to do that with this expansion. This state-of-the-art facility exemplifies our Diablo energy, and we can't wait to bring it to Triad area."
Since opening Diablo's current warehouse facility in Greensboro, North Carolina, Diablo has brought roughly 100 jobs to the area. With this expansion, Diablo will total more than 200 jobs in the area and will further label the Piedmont Triad area as the premier distribution hub in North Carolina.