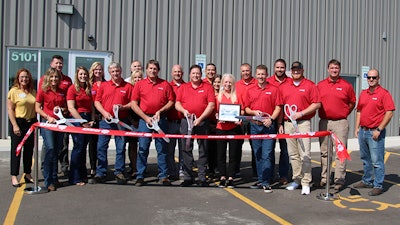 Dakota Supply Group
SIOUX FALLS, S.D. — Dakota Supply Group recently announced the opening of its new waterworks location in Sioux Falls.
The official grand opening was celebrated on Sept. 12 with special guests including the following Sioux Falls Great Chamber of Commerce members:
Chamber Emcee/Ambassador Amy O'Connor-Hoback from Kleenrite Company
Chamber Diplomat Cindi Johnson from Grand Falls Casino & Golf Resort
Young Professionals Network representative Nichelle Lund from Holiday Inn City Centre
Brian Sittig from CNA Surety
Tammy Beintema from the American Heart Association
Jordan Huisman from First PREMIER Bank and Chamber, and
President & CEO Jeff Griffin, who presented the plaque.
Special guests from DSG's construction partner, Beck & Hofer Construction, were also in attendance.
The previous Sioux Fall waterworks location was at 2219 E. Benson Road; the new location is at 5101 N. 9th Avenue.