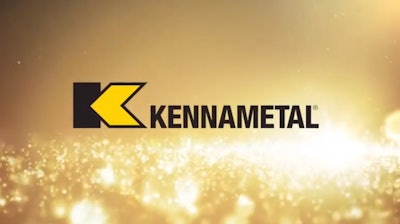 PITTSBURGH — Kennametal Inc. on Friday announced its growth and innovation strategy and outlined operational and financial targets through fiscal year 2027.
President and CEO Christopher Rossi and members of the executive management team shared the updates at the company's investor day at the New York Stock Exchange.
"For 85 years, Kennametal has been an industry leader in solving the cutting and wear-resistance challenges of our customers," said Rossi. "More recently, we invested in modernizing our manufacturing facilities to drive productivity, deliver greater customer service and bring higher value-add products to market faster. In addition, we enhanced our commercial excellence process to drive share gain and add new revenue streams in underserved areas of our diverse end markets. Today, this process is enabling share gain in end markets like aerospace and defense, which gives us confidence in our ability to deliver above market growth as we apply this process to other targeted end markets."
At Friday's event, Kennametal communicated the following growth and financial targets through fiscal year 2027:
4-6% Organic sales growth CAGR
20-23% Adjusted EBITDA Margin
20-25% Adjusted earnings per diluted share (EPS) CAGR
12-14% Adjusted return on invested capital (ROIC)
Free operating cash flow (FOCF) of greater than 100% of adjusted net income
The company also announced a $100 million operational excellence and capacity optimization cost savings initiative, which includes $20 million from the previously announced restructuring program, continuous operational improvement of approximately 1% of cost of sales per year, three to five plant closures, and inventory optimization.
"Taken together, the growth and productivity initiatives within our plan give me confidence that we will drive long-term value for shareholders," Rossi said. "We will also continue to execute a balanced capital allocation strategy to maximize shareholder value while funding the growth plan laid out today. We remain committed to returning cash to shareholders and executing a disciplined M&A and organic investment strategy to support and accelerate our growth."