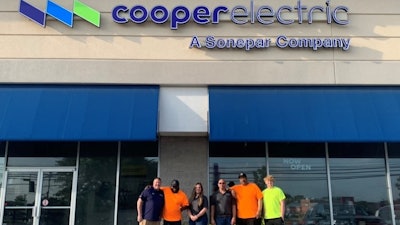 Sonepar
CRANBURY, N.J. – Cooper Electric, a Sonepar company, announced the opening of its new Buffalo, New York, branch location.
Cooper Electric is a full-service electrical distributor, serving multiple industry segments, including electrical contractors, industrials, OEM, utilities, residential and solar across its now 76 branch locations.
"We're excited to have opened the new location," said David Cooper, president of Cooper Electric. "With the investment of New York state in Greater Buffalo, and revitalization efforts of city planners, we know Buffalo is booming with building possibilities now and for the foreseeable future. The Buffalo branch will be supported by an adjacent modern warehouse and backed by our new CDC in Cranbury, New Jersey."
Nicole Mazerbo, with 20 years of experience in electrical distribution, will be managing the new branch operations.
"We're excited to be a part of the Walden corridor that serves a wide range of contractor needs," said Mazerbo. "We want to show all our customers, including large contractors, that we are very invested in supporting all their electrical projects."
In addition to the branch opening, Cooper Electric recently closed the acquisition of Billows Electric, which operates in the Philadelphia, South Jersey and Wilmington metropolitan markets, adding 19 more branch locations. The company opened a state-of-the-art distribution center last year.
The new branch is located at 2535 Walden Avenue in Cheektowaga, New York. A grand opening is planned for early this fall.