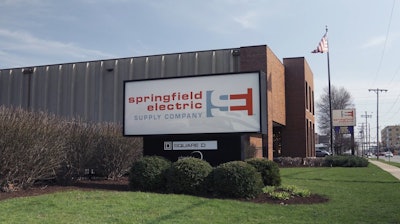 Springfield Electric
SPRINGFIELD, Ill. – Springfield Electric, a Sonepar company, announced the opening of its new Indianapolis branch location.
Springfield serves the residential and commercial construction markets, as well as institutional and industrial MRO and OEM businesses, under four brands: Springfield Electric, Richards Electric, PEPCO-Professional Electrical Products Co., and Holt Electrical.
"We are excited to be a part of the Indianapolis community, supporting contractors and industrial facilities with their electrical needs," said Chris Scarbrough, president of Springfield. "Operating in the Midwest since 1932, Springfield takes pride in longtime customer and supplier support and relationships that have been built over the years. Joining Sonepar in 2021, allowed Springfield Electric the opportunity to grow, enhance our business capabilities and leverage global resources in support of digital solutions and customizable services to support our customers at an even higher level."
The company coverage extends through Illinois, Indiana, Missouri, Ohio, Pennsylvania, Kentucky, and Davenport, Iowa. The latest branch to open is located at 4141 E 96th Street in Indianapolis. A grand opening is planned for later this summer.
"We have a highly experienced staff at the Indianapolis location. We are focused on supporting contractors with electrical products and labor-saving project solutions; and manufacturing facilities with productivity-enhanced industrial services and solutions. With a full-service counter, 28,000 square feet warehouse full of electrical products, and project logistics, the team is ready to support contractors, manufacturing facilities and commercial buildings/institutions in the Indianapolis metro area."