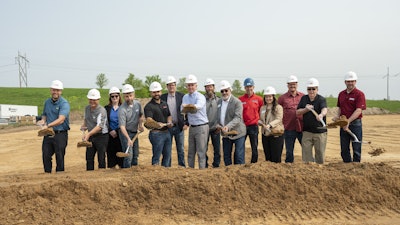 Dakota Supply Group
PLYMOUTH, Minn. — Dakota Supply Group announced Tuesday that it celebrated the groundbreaking of its new facility in Eau Claire, Wisconsin, on May 16.
The occasion signified the commencement of construction and introduced DSG's fifth location in Wisconsin, reinforcing its commitment to exceptional service in the region.
The facility is scheduled to open in the fall of 2023.
Situated at 3413 Truax Court in Eau Claire, the new, 30,000-square-foot facility boasts a strategic location with convenient access from Highway 312/North Crossing and Highway 12/North Clairemont Ave.
DSG has served customers in Eau Claire for several years, and establishing the new facility is a significant step toward providing a world-class customer experience in a vital market. The expanded range of services will cater to electrical, plumbing, on-site sewer, water and well needs, as well as HVAC and telecommunications requirements in the area's growing industries.
The groundbreaking ceremony was attended by esteemed guests including Luke Hanson, executive director of the Eau Claire Area Economic Development Corporation; Mark Lewis Dylan Schmidt from General Contractor CFBSI; Bill Johnson, developer from choice-commercial; David Minor, president & CEO and Kaylynn Winegar of the Eau Claire Area Chamber of Commerce; Christina Thrun, executive officer of the Chippewa Valley Home Builders Association, along with DSG's executive and regional leadership team.
"We are thrilled to expand our presence in the Eau Claire area with the introduction of this new facility. By enhancing our accessibility for Eau Claire customers, we aim to elevate our commitment to exceptional service further," said Paul Kennedy, president and CEO of DSG. "The Eau Claire area is experiencing remarkable growth, and we are delighted to support this development while upholding DSG's dedication to excellence."