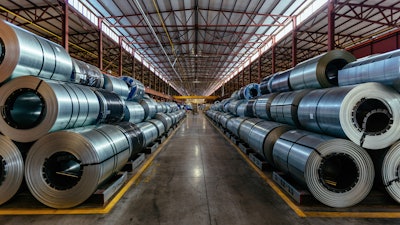 iStock
JSW Steel USA Ohio, Inc., a subsidiary of JSW Steel Ltd., announced its plans to invest $145 million in new projects to upgrade its manufacturing operations in Mingo Junction, Ohio.
JSW Steel USA aims to meet the demand for quality steel products that are "melted and manufactured in the U.S."
"These new investments reiterate JSW's commitment to a sustainable & green future," Parth Jindal, director of JSW Steel USA, said. "The operational upgrades being made at JSW Steel USA are a progressive step towards achieving our long term ESG goals. These investments and projects will help us in producing high quality 'melted and manufactured in U.S.' steel products required by our customers in the infrastructure and renewable energy sectors."
JSW Steel USA has long championed the Department of Energy's (DOE) emission reduction priorities and applauds its recent efforts to promote infrastructure that reduces the carbon footprint of the iron and steel industry through pivotal legislation such as the Inflation Reduction Act.
The proposed investments by JSW Steel USA will be deployed to establish various projects to upgrade its operations including the installation of one of the largest Vacuum Tank Degasser (VTD) in the world and upgrade of supporting facilities including the manufacturing infrastructure.
The proposed VTD has substantially lower carbon emissions profile compared to a traditional steam ejector vacuum technology. It will help JSW Steel USA to reduce hydrogen content in its steel products through electrification of metallurgical processes.
As part of this investment plan, JSW Steel USA is also implementing Dynamic Soft Reduction (DSR) technology in its casting operations.
The proposed investments will enhance JSW's manufacturing capabilities in the USA while enabling the company to produce "Made in USA" slabs for end use by the Renewable Energy and Infrastructure sectors.
The proposed upgradations will also enable JSW Steel USA to promote centerline soundness of the casted steel slabs which will not only widen its product portfolio but will also help produce wide range of high quality and sophisticated grades of steel slabs in the U.S. This will help expand its "Made in USA" product portfolio and replace imports into the U.S.
The portfolio expansion will help JSW Steel USA to adequately service the growing needs of the renewable energy customer segment by providing "Made in USA" products they need. These new projects are expected to be completed & commissioned in FY26.