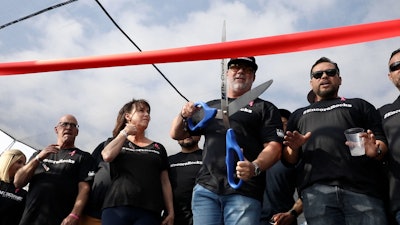 Encore
LONG BEACH, Calif. — Encore Gas & Supply, a Southern California-based independent gas and industrial supply distributor, announced the opening of the company's new corporate headquarters and showroom in Long Beach.
Adjacent to the 405 freeway, the new facility has 10,000+ square feet of office space, including an 1,800 square foot showroom, a 20,000 square foot warehouse, and a 3/4 acre service yard to accommodate the company's sizable fleet of specialized delivery vehicles. This is Encore's third location in the greater Los Angeles area. The company also operates an Inland Empire branch store in Ontario, California, and a specialty and industrial gas facility in Signal Hill, California.
"Encore has experienced substantial growth every year since the company's founding in 2014," said Encore President Ben Anderson. "At our old location, we were constantly bumping into each other, and this new, larger facility is not only a refreshing change, but also a critically necessary one to support our continued rapid growth."
Anderson added that Encore's Inland Empire branch store, which opened in October 2021 and also serves as a product distribution hub, is currently in the process of doubling its warehouse space and yard capacity.
The new Long Beach showroom, which is open to the public weekdays between 7 a.m. and 5 p.m., features a large inventory of welding, industrial and safety supplies and equipment from brands such as Lincoln Electric, Miller Welding, ESAB, Furick, Victor, Harris and many others.
Branch Manager Jesse Gomez likened the showroom to "a highly specialized hardware store catering to people and companies whose projects and operations are 'mission critical,'" adding that, "their operations are too vital to be disrupted by delays, inaccuracies and interruptions with critical gases, supplies and equipment, so we're always here to support them."
Grand opening celebration
Encore celebrated its grand opening with a concert and car and chopper show on April 14, which featured live music, hands-on equipment demonstrations and attractions and events benefitting three charitable organizations.
Representatives from more than 30 of the welding industry's most respected brands demonstrated their companies' newest and most innovative technology, including a rare opportunity for attendees to "test drive" four state-of-the art "Co-Bot" automated welding machines courtesy of Lincoln Electric, Miller Welding, ESAB and APT Manufacturing.
In addition to one-of-a-kind custom cars and vans, several custom choppers courtesy of Jason Wilson from the Discovery Channel program "Sacred Steel" were on display, with Wilson himself in attendance to speak with guests and answer their questions.
Fundraising activities benefited three charitable organizations: Paws for Purple Hearts, the world's only service dog organization for wounded Service Members and Veterans; Re-Ignite Hope, which trains students for a career in welding, gets them certified in the welding trade and assists them with job placement at no cost to the student; and The Pink Journey Foundation, which provides no-cost breast screenings and breast care for underserved communities with women who are uninsured or underinsured.
Students and faculty from several notable local trade schools were also in attendance to learn about the latest industry technologies and techniques and networking to advance their burgeoning careers, including Orange Coast College, Long Beach City College, Summit Vocational College and others.
Other notable organizations exhibiting to promote careers in blue collar trades and welding included the American Welding Society (AWS) and California Welding Institute.
Six live music sets were performed over the course of the day by three local bands: Cover Junkies ('90s & '00s cover songs), Joe Wood & the Lonely Ones ("rocking blues" original songs) and headliner Flashback Heart Attack (a well-known '80s cover band).
Approximately 1,000 guests attended the grand opening event, and nearly $6,000 was raised for the charity partners.
The Encore Long Beach headquarters and showroom is located at 2900 E. 29th Street.