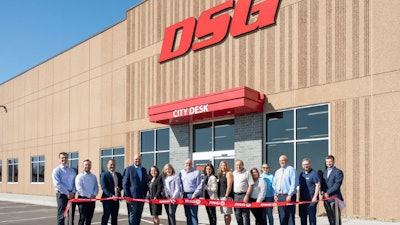 DSG
PLYMOUTH, Minn. - Dakota Supply Group on Wednesday celebrated the official grand opening of its new Otsego, Minnesota, location with the special guests Otsego Mayor Jessica Stockamp, Otsego City Council members, the Minnesota Department of Employment and Economic Development's Catalina Valencia, state Rep. Walter Hudson, state Sen. Eric Lucero, construction partners from RyRyan, Cushwake, Interstate Development and Colliers, along with DSG team members.
As part of its mission to be a people-centric, customer-obsessed, growth-focused, and diversified solution provider, DSG has been serving customers in Monticello and Otsego for several years and moved from the previous Monticello location to its new location at 7505 Kadler Ave. NE in Otsego. This is another step in DSG's effort to bring a world-class customer experience directly to this important market. The new facility has expanded DSG's services to the plumbing, waterworks, on-site sewer, water and well, HVAC, and electrical needs in this growing area.
DSG has been a 100% employee-owned organization, known as an "ESOP," for the past 17 years in an industry typically dominated by mergers and acquisitions. DSG is headquartered in Plymouth, Minnesota, and has 13 locations in Minnesota and more than 300 employee-owners.
"DSG's strength comes from within – a people-centric organization that is passionate about serving others, from their fellow employees to the thousands of customers, and the various communities they operate in, DSG's foundation is built on respect, teamwork and growth," said Paul Kennedy, president and CEO.