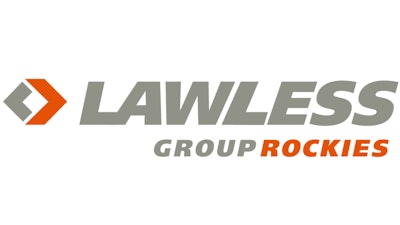 DALLAS — The Lawless Group announced Tuesday that it has officially entered the Rockies.
The Lawless Group Rockies (LGR) territory includes Colorado, Utah, Wyoming, Idaho and Montana. LGR already has a warehouse location in Salt Lake City, and a Denver location will open later this year.
"Our expansion into the Rockies is consistent with our strategy to follow our end user and distributor customers and in support of our manufacture partners," said CEO Jack Templin. "As with previous expansions, we intend to offer our customers and manufacturer partners our comprehensive services with the industry leading people that they have come to expect from the Lawless Group."
Under the leadership of President Eric Stone, the Lawless Group has already begun to assemble a team of industry experts for expedited territory growth. The team plans to add several more members in the coming weeks. This team will leverage the Lawless Group solutions offering and their extensive industry expertise. These solutions cover the industry spectrum from corporate to the jobsite: training, end-user engagement, logistics and warehouse programs. The team will focus and expand efforts to capitalize on momentum, technology and logistics, streamlining product accessibility.
"I am very excited to welcome these team members to the Lawless family and continue on our growth path," said Stone. "Together, we will continue to provide the highest level of support and speed to our customers."
Charlie Cronin, regional VP of sales, will reside in the Denver market and be responsible for profitable growth, engagement, customer retention and penetration. He brings over 10 years of experience from in the field to strategic leadership. Cronin has built and led high performing teams with a results-driven track record. He is a top producer with a strong focus on distributor partnerships and end user engagement. Cronin has been awarded and recognized for his work previously with Apex Tool Group.
Riley Thomas, end user specialist, will be responsible for training and ensuring proper integration, utilization and safe use of products on the jobsite. This will include collaboratively working with our distribution partners in the field. Prior to joining LGR, Thomas worked with Apex Tool Group and JBC North America, where he excelled leading training programs and demos. He is a graduate of Indiana University and most recently pursing a post degree in construction project management.
This new territory further builds on The Lawless Group's expansion and recent investments, now totaling 36 states across the U.S. with over 125 employees.