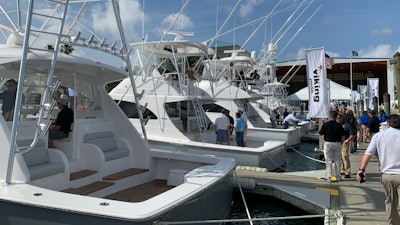 Viking Yacht Co.
TACOMA, Wash. — Stellar Industrial Supply on Thursday announced the opening of its new warehouse and branch office in Egg Harbor Township, New Jersey, specifically to support Viking Yacht Company.
Viking Yachts has grown to become a world leader in semi-custom fiberglass yacht production with over 5,000 Vikings delivered since 1964. The new warehouse enables Viking to streamline supply chain and logistics to more quickly and efficiently serve its customers. The new branch is strategically positioned between Stellar's Northeast and Southeast branches to further support them as needed and expand support for Stellar customers across the New Jersey and Pennsylvania areas and beyond.
With the warehouse and Egg Harbor branch opening, Stellar boasts 17 regional hubs, including: Portland, Ore., Albany, Ore., Everett, Wash., Tacoma, Wash., Seattle, Spokane, Wash., Los Angeles-Metro, Upland, Calif., Central Valley, Calif. (San Luis Obispo, Ventura), Denver, Billings, Mont., Phoenix, Lawrence, Pa., Sparks, Nev., and Tampa, Fla.
"Recent worldwide supply chain and logistics issues have underscored the need for flexibility and innovative approaches by all stakeholders. We are ecstatic that our partners like 3M and others are fully committed to creating real-world solutions such as this dedicated warehouse for Viking Yacht Company," said Stellar Industrial Supply President and CEO John Wiborg. "This new model further demonstrates our commitment to each customer and their success."
In addition to its wide range of products, Stellar Industrial Supply is known for its Documented Cost Savings (DCS) program that creates "Ideal Customer-Supplier Partnerships." Working on behalf of both parties, Stellar Industrial Supply deploys the most efficient, cost-effective products that optimize plant operations and help run them smartly and safely.
In 2021, DCS generated nearly $17.9 million in 2021 savings, or $48,378 average DCS across 370 customers. Over the past 10 years the program has accrued $148+ million in customer savings and reduced costs.