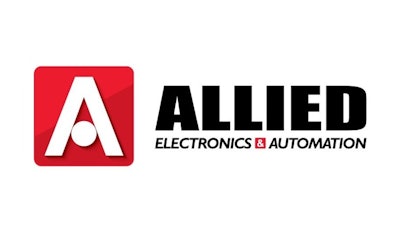 FORT WORTH, TX — Allied Electronics & Automation added three new suppliers in the safety & PPE product category in December with Guardian Equipment, Pacific Handy Cutter (PHC), and Klever Innovations. Endress + Hauser adds products in multiple categories, including sensors and switches, while Mobotix brings products to test & measurement. Jan Fan is a new supplier in fans & thermal management.
The new suppliers expanded Allied's linecard of more than 550 world-class suppliers. New products from these suppliers are now available at www.alliedelec.com. 
Allied's recently added suppliers include the following:
Allied also continues to add products and suppliers to its facilities cleaning and maintenance inventory. As part of its focus on improving the customer experience, Allied will continue to expand its product portfolio throughout 2021 and beyond to meet customers' wide-ranging needs. In 2020, the company added more than 50 new best-in-class suppliers to its linecard, bringing more than 10,000 new ready-to-ship product lines to customers. Allied has also recently doubled the capacity of its Fort Worth distribution center and provides online customers with tens of thousands of 360-degree high-resolution images, more than 1.1 million up-to-date product data sheets, expert advice on a wide range of topics, and a connection to the company's global DesignSpark free online engineering collaboration platform.
About Allied Electronics & Automation
Allied Electronics & Automation is an omni-channel authorized distributor of industrial automation and control solutions, electronic components, and maintenance products from more than 550 world-class suppliers. With a local presence throughout the US, Canada, and Mexico, a focus on digital customer experience and more than 3.5 million parts available for purchase online, engineers, designers, maintainers, and purchasers trust Allied to provide a wide range of solutions across the entire product lifecycle.