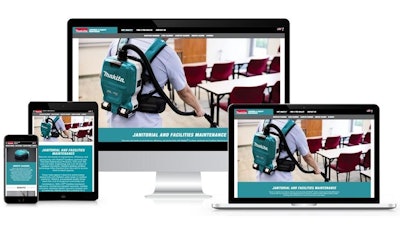 Makita U.S.A.
LA MIRADA, CA — Global industrial power tools, pneumatics and power equipment manufacturer Makita U.S.A. recently announced a new initiative to pursue the janitorial and sanitation industry. The initiative, led by Makita's growing product offering, is supported by a new microsite.
Solutions for the Janitorial and Sanitation Industry
Makita provides cordless solutions for a variety of applications, all on one platform. Makita Cordless Cleaning Products are ideal for use in schools, hospitals, offices, retail, hotels, and more. With Makita's wide range of cordless products, users can increase cleaning productivity and performance.
"This is an exciting opportunity for Makita," said Brent Withey, Makita U.S.A. vice president of brand marketing. "Investing more into janitorial and facilities maintenance is a natural fit with our current and ever-expanding product offering."
Makita LXT Cordless Backpack Vacuums, Compact Vacuums, Canister Vacuums, Industrial Robotic Vacuums, Blowers and Accessories utilize Makita's innovative 18V LXT Lithium-Ion Batteries and BL Brushless Motor technology. With one system, users can go from vacuuming to blowing quickly and easily for maximum productivity.
LXT Advantage
The Makita LXT Cordless System, the world's largest cordless tool system powered by 18V lithium-ion slide-style batteries, provides users with the most advanced, durable and dependable 18V products. Four key components work together to create the LXT Advantage: fast-charging LXT batteries, a Rapid Optimum Charger, brushless motors, and Star Protection Computer Controls.
Makita 18V LXT Batteries have the fastest charge times in their categories, so they spend more time working and less time sitting on the charger. For improved tool performance and extended battery life, Makita created Star Protection Computer Controls. Star Protection is communication technology that allows the Star Protection-equipped tool and battery to exchange data in real-time and monitor conditions during use to protect against overloading, over-discharging and overheating.
New Janitorial and Sanitation Microsite
The new microsite is aimed to inform facility maintenance managers, contract cleaners, buyers, dealers, and others in the janitorial and sanitation industry about the wide range of Makita Cordless Cleaning Products.
"We created a microsite focused on Makita's solutions for completing cleaning jobs quickly and easily," said Jenny Feng, Sr. Product Manager. "The new website features a clean design that showcases product videos, usage recommendations, and the advantages of the LXT System."
With an innovative product offering, new microsite, and specialized janitorial and sanitation-focused sales team, Makita is equipped to meet the demands of the industry. For more information, visit www.makitatools.com/cleaning