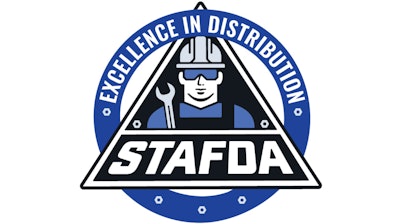 STAFDA
ELM GROVE, Wis. — Registration opens Monday, Nov. 20, for STAFDA's highly anticipated "Excellence in Distribution" program.
Managed by the Specialty Tools & Fasteners Distributors Association, the three-day management school is designed specifically for professionals in the construction and industrial distribution and supply chain industries.
STAFDA's Excellence in Distribution will be March 12-14, 2024, at the Nashville Hilton. The new program is an intense management school focused exclusively on wholesale distribution and the supply chain to fill an educational void in the industry. Excellence speakers have been carefully selected based on their years of experience and proven success in their respective fields. Attendees will interact with experts serving our industry who will cover key topics such as outside sales, branch management, HR, profitability, warehousing and inventory, and trending topics like Al and digital transformation.
Renowned speakers include Dirk Beveridge, Ken Brown, Nancy Combs, Mike Foster, Paul Reilly, Jon Schreibfeder, Mike Staver and others.
EiD is open to ALL companies in the construction and industrial channel, not just STAFDA members. We're all in this space together and Excellence in Distribution is designed for the betterment of our industry.
Attendees also have the opportunity to socialize and connect with like-minded individuals in our industry. The agenda includes ample time for networking, allowing them to engage in meaningful conversations with other professionals.
Nashville's Excellence sessions will end at noon on March 14, but for those who want a fun diversion before heading home, an optional tour of Jack Daniel's will be offered. Lynchburg, Tennessee, is only 90 minutes away, and seeing how Jack handles whiskey distribution can be a unique way to close out the experience.
STAFDA members will receive preferential pricing, but Excellence is designed to serve the construction, industrial, electrical, HVAC, plumbing, LBM, safety, concrete, or any other market in the construction channel. It's open to distributors, manufacturers, rep agents, general contractors, industry buying groups, and any professional who wants to learn and grow in their career.
For a complete list of speakers and workshops as well as registration details, please visit ExcelinDist.org.