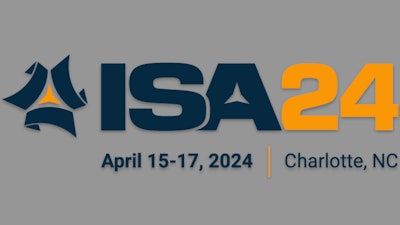 ISA
The Charlotte Convention Center is set to become the epicenter of the industrial supply industry as the Industrial Supply Association gears up for its annual convention, ISA24, on April 15-17, 2024.
More than just a meeting of industry professionals, ISA24 is where business gets done, connections are made, and the future of the industry is shaped.
Innovative and enjoyable networking activities at ISA24 promise to reshape conventional norms, aiming not only to build relationships but to solidify existing partnerships, offering an unparalleled experience of networking excellence that goes the extra mile.
Brendan Breen, CEO of ISA, emphasized the significance of ISA24.
"This event is the heartbeat of the industrial supply industry, where diverse companies come together to connect, collaborate, and chart the course for collective success. We're turning up the excitement by infusing unique opportunities for both fun and meaningful interactions, raising the bar for all industry events. Get ready for an incredible experience that redefines the way we network and succeed together."
ISA24 is also committed to addressing industry trends vital to ISA member companies and overall company success. The event's education sessions and three pre-conference workshops will delve into cutting-edge topics, offering insights into the rapidly evolving landscape of the industrial supply sector.
ISA24 highlights include:
Elevated Exhibit Hall Experience: Experience an expanded exhibit hall footprint in anticipation of more booths this year, extended exhibition hours, and a vibrant Networking-Lounge tailored for spontaneous interactions complete with exciting activities like receptions, a cornhole tournament, and an auction party right on the show floor. An advanced appointment scheduling tool with AI-powered matchmaking technology and a meeting bell notification system ensure attendees stay on track at ISA24.
Defining Networking Excellence: At ISA24, networking excellence means creating dynamic and meaningful connections that go beyond the ordinary. We go the extra mile to ensure networking activities are not only enjoyable but also impactful and fun. Engage in a diverse range of networking activities, including an Opening Party at the NASCAR Hall of Fame, a Charity Golf Outing, Charity 5K Fun Run/Walk, a 'Toss & Toast' Happy Hour and Cornhole Tournament, Women in Industry Cocktail Hour, Interactive Networking Lunch, Legislative Luncheon featuring the National Association of Wholesale Distributors (NAW), a Silent Auction Party with 'Beers on Wheels,' and additional engaging activities.
Opening Party at the NASCAR Hall of Fame: Rev up your engines for the ISA24 Opening Party at the NASCAR Hall of Fame offering a night of great food, drinks, and engaging activities, including race car simulators, hands-on pit crew experiences, and broadcasting a race. It's the perfect opportunity to mingle with industry peers in an iconic setting.
Main Stage Keynotes: Jim Craig, the legendary goalie for the 1980 U.S. Olympic Hockey Gold Medal team, will harness the power of inspiration, teamwork, and hope as he shares insights from the iconic victory and more. Alan Beaulieu, President of ITR Economics, will unravel the complexities of the ever-changing industrial supply landscape, providing clarity and confidence to navigate the future.
A Focus on Industry Trends: NEW THIS YEAR: ISA24 turbocharges its agenda by partnering with industry events MDM SHIFT and DSG's Applied AI for Distribution, infusing the ISA24 audience with cutting-edge insights on future sales strategies, industrial culture, and the transformative power of artificial intelligence.
Pre-Conference Workshops: Before the main event, ISA24 is hosting three pre-conference workshops: Profitability Boost – Strategies for Distributor & Supplier Success, Aligning Manufacturers & Distributors – Bridging the Gap between Mars and Venus, and Fostering Success – Cultivating a High-Performance Culture for Exceptional Results. These interactive workshops provide a deep dive into critical industry topics.
Registration for ISA24 is officially open, and attendees are encouraged to seize this opportunity to be part of the industry's best networking event where business gets done, connections are made, and we pave the way for collective success.
For more information and to register, visit ISA24.isapartners.org.