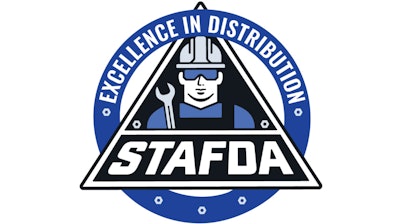 STAFDA
ELM GROVE, Wis. — Members of the Specialty Tools & Fasteners Distributors Association elected new leadership for 2024 during the association's 47th annual convention and trade show, held Nov. 5-7 in San Antonio, Texas.
Following the event's general session, Andrew Hartman, president and owner of Hartman Independent Company in Canonsburg, Pennsylvania, became STAFDA president. Hartman provides fastening and packaging solutions to the construction and industrial markets in Maryland, New York, Ohio, Pennsylvania and West Virginia. Hartman Independent Company has been a STAFDA member since 1981.
Phil Cerminaro, president and majority owner of Industrial Products Limited in New Orleans, was elected STAFDA vice president. The company centers its product offerings around access and safety equipment but also offers a full line of material handling products and custom fabricated solutions. Industrial Products Limited has been a STAFDA member since 2005.
Robert Facca, Facca Fasteners Limited, London, Ontario, Matt Kitchens, California Service Tool Inc., Hayward, California, and Will Rue, Fastening Solutions Inc., Montgomery, Alabama, were elected to three-year terms on STAFDA's board of directors.
New members of STAFDA's Manufacturer Liaison Committee include Bruce Imig, Max USA Corp., Plainview, New York, Ryan Kaelin, Simpson Strong-Tie, Pleasanton, California, Patrick Murray, ORS Nasco Inc., Tulsa, Oklahoma, and Mike Sullivan, CS Unitec Inc., Wilton, Connecticut; Katie Cornelius, Donwin Marketing, Lakefield, Ontario, Brandon Martin, Regency Sales Co., Duncanville, Texas, and Heather McNulty, Rouser Group, St. Louis Park, Minnesota, joined the Rep Liaison Committee.
Elections are held every fall with results announced at the annual convention.