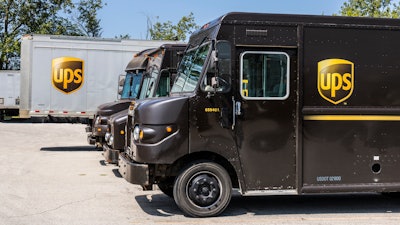 iStock
The nation's distributors will experience "severe hardships" should unionized UPS workers go on strike at the end of the month, according to a major industry trade group.
A survey of members of the National Association of Wholesaler-Distributors indicated that most use UPS in their transportation operations, officials said, and that the parcel giant generally accounts for 50% to 100% of their inbound and outbound shipments.
Members also indicated that they would see a "significant" short-term impact from a work stoppage lasting from one to 15 days. NAW CEO Eric Hoplin said many of the group's members are currently attempting to "figure out how to do business if they must go without their carrier," and urged the White House to take action to prevent a strike.
"NAW members and the wholesale distribution industry will face severe hardships and disruptions if talks break down and the UPS strike goes into effect this weekend," Hoplin said in a statement.
Negotiations between UPS and the Teamsters union are set to resume Tuesday with a contract covering some 340,000 workers set to expire July 31. A strike would interrupt operations accounting for roughly one-quarter of parcel shipments in the U.S. and have sweeping implications for the supply chain and the economy as a whole.
Unionized UPS workers are reportedly still unhappy over a contract signed five years ago as the number of packages the company delivers continues to skyrocket. Teamsters officials have said employees want better working conditions and higher pay — particularly for part-time employees — among other changes.
The union's president has asked the White House not to interfere should workers go on strike.
UPS has defended its pay and benefits and said that it hopes to reach a "fair deal" quickly. The company said earlier this month that it planned to begin training non-union replacement workers.