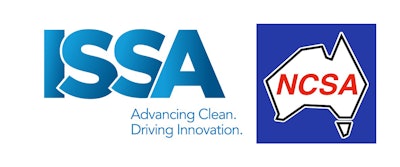 The Worldwide Cleaning Industry Association — ISSA — and Australia's National Cleaning Suppliers Association (NCSA) have announce that NCSA members have voted to merge with ISSA.
Sydney, Australia-based NCSA is a trade association providing support to manufacturers, distributors and suppliers of cleaning and associated products in the Australian market.
Under terms of the agreement, NCSA members will retain their NCSA memberships on a local level, but those memberships will expand to include global ISSA membership and benefits. Once the merger is finalized, NCSA members will have access to ISSA member benefits, including market exposure, networking opportunities, business tools and data and industry information.
"Following its annual general meeting on Aug. 4, 2016, the NCSA is proud to announce that it was unanimously agreed by all members present to merge the NCSA with ISSA," said NCSA President Stuart Nicol. "This will allow NCSA members to truly become part of the global cleaning industry, and it will deliver real value to our members by providing them with access to ISSA's education programs, trade shows, networking, certification guidelines, regulatory information, and much more. NCSA board members are committed to working closely with ISSA staff and see this as a great opportunity to contribute to a positive change in our industry."
ISSA Executive Director John Barrett is equally excited about the partnership.
"The merger with NCSA represents an exciting development in fulfilling ISSA's mission to change the way the world views cleaning," Barrett says. "We are delighted to partner with NCSA to serve the entire cleaning community of Oceania."
ISSA has more than 7,000 members including distributors, manufacturers, manufacturer representatives, building service contractors, in-house service providers and associated service members. The association is headquartered in Northbrook, IL, USA, with regional offices in Mainz, Germany, and Shanghai, China.
ISSA provided the following frequently asked questions statement regarding the merger:
Question: What will change?
Answer: NCSA has decided to merge the association as a regional subgroup of ISSA, the worldwide cleaning industry association. This means that NCSA members would retain their NCSA membership on a local level, and it would now be expanded to include a global ISSA membership and benefits offering.
Question: Why has NCSA made this change?
Answer: NCSA relies on volunteer leadership to manage the association and provide continuing benefits, which limits its ability to grow value for members and exhibition participants. NCSA currently provides an annual trade show "Cleanscene" in conjunction with the Safety Show, plus it co-ordinates local events such as golf days and luncheons offering networking opportunities. With its current resources, NCSA is not able to support these initiatives as fully as it would like to. ISSA has more than 7,000 members worldwide, more than 2,200 of which are distributors. It hosts the largest and most prominent exhibitions in the global cleaning industry, and it has a strong support staff of association management, exhibition, and industry resource experts. By joining with ISSA, NCSA members gains access to the expanded network and strong staff to help NCSA grow, the events it hosts, and the benefits it offers. ISSA also would install a local staff member to ensure proper attention to the Australian market.
Question: Will NCSA continue to have its own exhibition?
Answer: Yes. The NCSA exhibitions in Melbourne and Sydney would continue to exist. In fact, it is anticipated that these events will grow because of the merger.
Question: Will NCSA continue to have its other events?
Answer: Yes. In fact, in addition to the Cleanscene show, NCSA hopes to expand the education, networking, and business tools available to its members.
Question: What specific benefits does ISSA make available to NCSA members?
Answer: A sample of current ISSA benefits that NCSA members would access include:
Marketing Exposure

Listing in ISSA's online directory, which is searched more than 15,000 times a month
Ability to promote their own business news through ISSA's global network. ISSA's site alone is viewed more than 370,000 times a month and major newsfeed aggregators regularly pick up and spread ISSA news through their channels as well
Access to all ISSA member complimentary webinars and discounts at other events
Access to promotional items such as the ISSA member logo and Power of Clean video.

Networking opportunities

Access to ISSA's global LinkedIn group with more than 25,000 members
Member registration and networking during ISSA/INTERCLEAN shows in North America, Amsterdam, Latin America and Istanbul.

Business Tools & Data

ISSA member-only market data
Member discounts on all educational resources in the ISSA Professional Development Center, including a variety of distributor sales guides and customer training tools.
Complimentary set of Value of Clean sales tools, helping make the case to purchasers for increased investment in cleaning
Ability to apply for one of the 2016 Internship matching grant programs to develop a new internship in their company
ISSA Clean Standards for measuring the effectiveness of cleaning
ISSA's Cleaning Industry Training Standard (CITS), which can third-party verify your training programs and much more.

Industry Information

Monthly ISSA Times e-newsletter
Bimonthly online magazine, ISSA Today
Access to more than 3,000 online articles, videos, news items. Video feed can be customised based on which topics you wish to post on your own site
Customer-focused information from ISSA's Cleaning & Maintenance Magazine and website