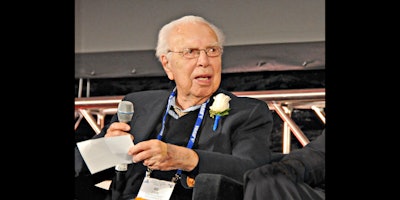 One of STAFDA's founding 18 members, Ed Joffe, recently passed away. He was the former owner/president of Automatic Fasteners in Miami, FL and was recognized on stage during the General Session at STAFDA's 2014 Charlotte Convention. His keen sense of humor had the audience laughing. Ed was 94.
In 1959, Joffe started his company by distributing one product – a stud gun – designed with a rotating barrel, shooting eight nails or fasteners without reloading. In 1967, his company was purchased by Allied Products and Automatic Fasteners became a division of Allied. With their support, Automatic Fasteners became a national tool and fastener distributor carrying a broad spectrum of construction products. His division closed in 1987 and he retired.
During his retirement, he was an active volunteer counselor and mentor at SCORE – Service Corps of Retired Executives – whose mission is to provide free business mentoring to rising entrepreneurs.