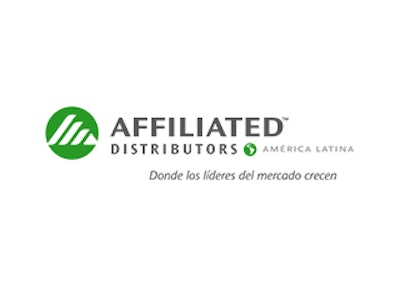 Wayne, PA – Affiliated Distributors (AD), the largest industrial and construction products buying and marketing group in North America, announces its continued global growth by expanding into the Latin American market.
"AD is now open for business in Latin America and we look forward to working with and sharing best practices with the best Independent Distributors and Manufacturers in Mexico, Brazil and Colombia," said Bill Weisberg, Chairman and CEO of Affiliated Distributors. "The creation of AD Latin America is driven by our sense of responsibility to our existing Members and Supplier Partners and consistent with AD's mission to help strong Independents work together in order to counter the geographic scale advantage of national and international chains."
Leading the Latin American expansion is Carlos Garcia Ramirez, AD's new Managing Director and VP of Latin America. Carlos comes to AD with three decades of experience in the Electrical Industry. Prior to joining AD, Carlos served as Panduit's Managing Directors of Latin America, Caribbean, Europe and the Middle East. During his twenty four year tenure at Panduit, Carlos was extremely successful in building out their distribution network and building strong local teams. Carlos will continue to live in Guadalajara, Mexico.
Donald Slominski, President and CEO of McNaughton McKay Electric Company (Madison Heights, Michigan, USA) and Member of AD Board of Directors said, "AD Latin America has the enthusiastic support of the entire AD Board of Directors. We have great confidence in Carlos and we have made a meaningful investment to insure that this initiative is well funded and responsive to the needs of our Members and Suppliers."
Weisberg said, "With $28 Billion in Member sales, AD has a leading position in the U.S. and Canada. A huge portion of the business in these countries and others around the world is bought and sold locally. That's a source of strength for Independents. But just as we've seen many of the Manufacturers in this industry becoming global, so too are an increasing number of our Members' customers and competitors. Left unaddressed, this could, over time, put AD Members and Suppliers at a competitive disadvantage. That's why we've launched AD Latin America,"
Through the implementation of AD's state of the art programs, planning, and development model, AD Members have achieved double-digit growth with AD Supplier Partners for 26 out of the last 30 years.
Tim MacDonald, President & Chief Executive Officer of Ideal Supply Co. Ltd (Listowel, Ontario, Canada) and AD Board Member said, "Creating a group in Latin America that supports Independent distribution will be good for Distributors and Suppliers in that region, the same way AD has strengthened market share for Member Distributors and Supplier Partners in the U.S. and Canada."
Carlos Garcia Ramirez shares, "We believe that AD's culture of diversity and respect for local market differences will be very well received in Latin America. AD doesn't have just one way of doing things. We work in seven industries and two countries and we customize our approach in each market based on its unique dynamics."
In accordance to AD Governance practices, an AD Latin American Distributor will sit on the AD Board of Directors. And AD Latin American Distributors will make all decisions regarding Latin American programs.
Weisberg said, "In Latin America we are partnering with existing Members, with supplyFORCE and with our globally focused Supplier Partners to support their growth strategies. We are also welcoming new, locally owned Independents and local Suppliers in these countries who serve the construction and industrial market."
Strategic recruitment in Mexico, Brazil and Colombia will be initial countries of focus for AD. Over the next few years the group will expand to additional countries in Central and South America and other strategic markets around the globe.
For more information on the AD Latin America program, please contact Carlos Garcia Ramirez at cgarcia@adhq.com.