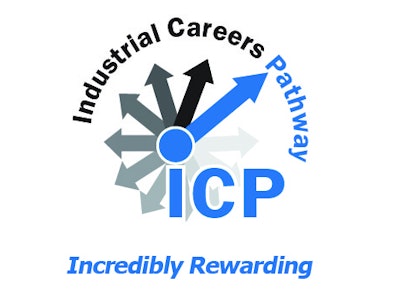 CHICAGO — It stands to reason that to attract new, young employees to a company, it is crucial to first educate them about an industry. Restaurants, retail, banking, information technology, healthcare, advertising and other industries have done a good job of making young people aware of careers in their industries. Industrial distribution, not so much. Research sponsored by Industrial Careers Pathway (ICP) has proven that not even five of 30 "right fit" individuals, aged 16-24, are aware of a career field in the industrial distribution sector. ICP's alliance partner-driven mission is to raise awareness of the field of industrial distribution to fill positions vacated by retiring Baby Boomers.
Because industrial distributors are located in virtually every state/province and county in North America, ICP has launched an initiative to encourage volunteer ICP Ambassadors to host facility tours for students as a way to make young people aware of the "incredibly rewarding" careers awaiting them in the field.
ICP Ambassador Jay Meier, branch manager, Motion Industries, Inc., St. Paul, MN, recently conducted just such a tour in Minnesota for 10 students from Simley High School in Inver Grove Heights, MN. The students had recently toured a Motion Industries customer location earlier in the month, and then made a stop at a local Motion Industries branch location. This provided the students an opportunity to see exactly where industrial distribution fits in their everyday world and how industrial distributors work with end users.
Meier said, "These young people came in very prepared for what they were about to see. They asked intelligent questions and seemed to really enjoy the experience. It's a true pleasure to educate children who are on the cusp of adulthood about the career possibilities that await them. I feel confident that some of these kids might end up in our industry and, whether they end up working at Motion Industries or in some other aspect of industrial distribution, it was really good public relations for us. Also, ICP made the experience very easy for me as they helped to nail down all the logistics details so the whole experience didn't really take up very much of my time at all. We would be happy to host another group of students in the future."
Any employee of a company affiliated through membership in an ICP Alliance Partner organization is welcome to join the ICP Ambassador Corps. Information is available at: www.industrialcareerspathway.org/Ambassadors.
ICP is a multifaceted North American workforce initiative supported by an alliance of industry associations including American Supply Association, Industrial Supply Association Education Foundation, National Association of Chemical Distributors, National Association of Electrical Distributors, NAHAD-The Association for Hose & Accessories Distribution, NIBA-The Belting Association, and PTDA Foundation. ICP links students and job seekers to career paths in industrial distribution and manufacturing through partnerships with local educators and employers. For more information, visit www.industrialcareerspathway.org/hire or contact ICP at info@industrialcareerspathway.org or call +1.312.516.2100.