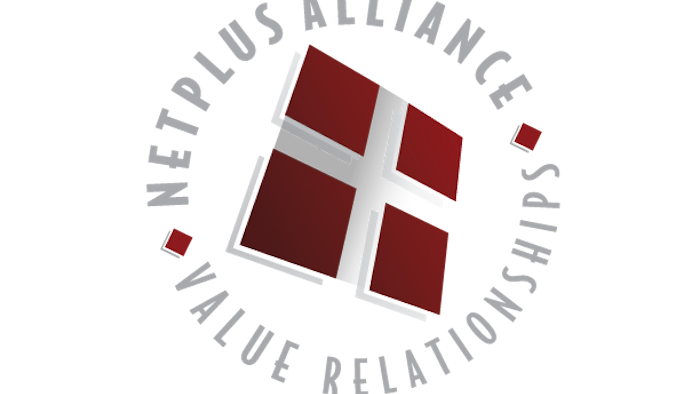 ​LOCKPORT, NY — In keeping with its core purpose of helping North American small businesses succeed, NetPlus Alliance held its second annual meeting at The M Resort in Henderson, NV on April 12-14, 2015. The industrial and contractor supplies buying group experienced even greater attendance numbers than it did at its inaugural annual meeting in March 2014. This year's event was attended by over 360 delegates from almost 200 companies.
NetPlus Members kicked off the two-day event at the opening party on the resort's rooftop. Celebrating the theme "Value Relationships," attendees caught up with old friends and networked with new members while enjoying the skyline view of the Las Vegas strip.
The heart of the annual gathering is the one-on-one business meetings, and new this year was the option for distributors to attend education sessions on topics such as e-commerce, vending and small business management. Attendees took a break mid-day to attend the award luncheon where NetPlus Alliance founder, Dan Judge, introduced his daughter, Jennifer Murphy, President of NetPlus Alliance.  Jennifer is the fifth generation to lead the family-owned business, which has industrial roots dating back to 1885.
Murphy spoke with pride about NetPlus Alliance and the team's focus on building engagement over the last two years, and the group's growth as a result of this campaign.
In 2014, NetPlus reached its highest yearly purchases total in its 12 year history and reported over $1 Billion in total purchases between distributors and suppliers since its founding in September 2002.  NetPlus closed out 2014 with an almost 14 percent increase in total group purchases over 2013.
After its inaugural group meeting in March of 2014, NetPlus examined the performance of attendees and found that meeting attendees grew twice as fast as the non-attendees, in both purchases and average number of suppliers. Training and regional meeting attendees realized greater sales growth than non-attendees as well, including an 85 percent increase over 6 months for JPW Industries' distributors participating in their training program.
During the luncheon, several awards were presented to distributors and suppliers. NetPlus Alliance models the awards after the core values that define the group's purpose.
Grow Together: The Marketing Excellence award is presented to the NetPlus supplier who executes a strategic marketing initiative with the group and exemplifies a high level of partnership with NetPlus distributors. This year's award winner was Robert Bosch Tool Corporation, a NetPlus supplier for only two years who has invested in a strategic marketing plan and has shown a willingness to engage with many NetPlus distributors.
Embrace Change: The Distributor MVP award is presented to the NetPlus distributor who leads with its key values and deep product knowledge and harnesses the power of social media and the Internet to deliver valuable content to a broad audience of physical and e-commerce customers. The 2014 award winner was Ohio Power Tool of Columbus, OH. This NetPlus distributor committed to 8 new NetPlus suppliers, resulting in total year-over-year growth of 80 percent.
Be The Best: The Supplier MVP award is presented to the NetPlus supplier who is truly a partner with NetPlus Alliance. This year's award winner was JPW Industries, who has been a NetPlus Alliance supplier since the group's formation in 2002. JPW had the highest sales growth in 2014 among all NetPlus suppliers and added 16 new distributors this past year. More than 70 members grew their business more than 20 percent in 2014, and JPW's training programs initiated and served as a model for NetPlus Alliance's Continuing Education Program.
Value Relationships: The Partnership Excellence award is presented to the NetPlus distributor who is a true advocate for NetPlus Alliance.  The 2014 award winner was Allan Guthrie of DXP Enterprises. Guthrie continuously promotes the awareness of NetPlus suppliers to his team of product sourcing specialists through engagement and training at the field level. He was also a strong advocate for NetPlus Alliance hosting its own meeting and instrumental in naming the group's Continuing Education Program.
The Dan Judge Founder's Award: This award is presented to a NetPlus supplier or distributor who exemplifies the NetPlus Alliance core purpose: "Helping American Small Businesses Succeed." This year's award winner was Kim Reynolds of The M.K. Morse Company. Reynolds currently serves on the NetPlus Alliance Supplier Advisory Council and has a genuine enthusiasm for his company, NetPlus Alliance, and the industry as a whole. He's also a great off-line advisor and will offer candid advice from time to time about various improvements or the development of new initiatives.
After a full day of networking and business meetings, attendees gathered at the Canyon Bar located near the resort's beautiful outdoor pool for a Caribbean-themed celebration, featuring a Jimmy Buffet cover band. The three-day conference wrapped up the following morning with an inspirational and motivational speech from keynote speaker Jon Wolske, the Cultural Evangelist for Zappos Insights. Wolske engaged the crowd with stories and challenged them to "Create a Culture of Service."
NetPlus Alliance will host its third Annual Meeting at the Hyatt Regency Hill Country Resort & Spa in San Antonio, TX, Oct. 2-4, 2016.