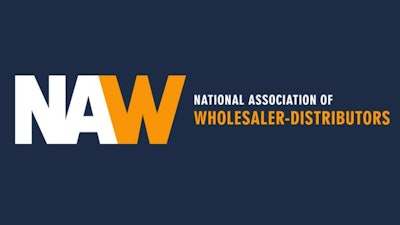 NAW
The National Association of Wholesale-Distributors (NAW) this week kicked off its annual meeting in Washington, D.C., bringing together executives from businesses spanning across the distribution sector.
Among them were many industrial company leaders, and although the event featured big names like Mike Pompeo and Mike Pence, other presentations focused more on the granular variables facing distribution as a whole. The conference's CEO panel, held Wednesday, featured several guest speakers in a conversational format.
Moderated by Kevin Short, president and CEO of ORS Nasco and Medco Tool, the panel consisted of Bunzl CEO Jim McCool, Do It Best Corp. President and CEO Daniel Starr, and President and CEO of RelaDyne Larry Stoddard.
The panelists provided commentary on the following key topics:
Technology:
Do It Best's Starr pointed to his firm's continuous investment in technology, including e-commerce, a modularized ERP, and WMS. While the company engages in millions of transactions per day, there is a strong need for real-time updates. Starr said they look for solutions that are as off-the-shelf as possible but "you compromise on that principle every time."
Bunzl's McCool echoed this, relaying that his company's 70 largely decentralized businesses were unable to take a one-size-fits-all approach and that now it was less about "the engine and more about the accessories." As far as technology ROI, he cited the company's investments in data as offering the best, quickest return of the past few years.

Supply Chain:
"It's complicated, but it's getting better," said McCool, likening COVID to an earthquake and the current market to "aftershocks." He said he believed there would be more to come, as manufacturers continue to face inventory imbalance, resulting in challenges in forecasting. But outside of that, McCool pointed to lead times that have largely normalized, along with container costs being back at pre-COVID levels. Moving forward, Bunzl hopes to gain more supply chain control through assessing suppliers and ensuring diversification.
RelaDyne's Stoddard added that diversification will play a role in his business as well, most notably from a customer standpoint. He noted that many customers moved away from a single source of supply during the pandemic, pushing back on a once-popular trend in the face of shortages.

"Lots of large customers started seeing problems and looked for alternatives," he said, adding that he believes it will be something "that sticks around for a while as the pain dissipates in the mind."

Fortunately, Stoddard sees hope around the corner, saying RelaDyne – which operates largely in oil and gas – saw many supply chain partners right their operations quickly because they had substantial resources. In the future, he expects more communication – not just between manufacturers and distributors, but connecting customers as well.
Regulatory Environment:
Stoddard said he believes that the potential for changes in employee classification law could make it difficult for distributors, as have government efforts to enable unionization. Outside of these challenges, he points to potential for ESG efforts to perhaps have a positive effect. For now, he said, "As companies continue to have to comply, measure and articulate their stance on ESG -- right now, it's a cost bucket. There will be a day, I believe, where companies require businesses they work with to comply with certain measurements... I believe at least the E and G part will start entering in the buying decisions." Once they do, Stoddard believes that there will be an opportunity for suppliers that "go through the effort to measure and report" to be rewarded with related business.
McCool added what he also believes could be a silver lining to the trend toward sustainability: while patchwork material and product bans can be a major challenge, there is also an opportunity for product suppliers to find replacements for problematic products, allowing them to meet those customer needs.
Talent:
When asked which roles these business leaders were most keen to hire in, Starr said that, for Do It Best, it was positions in upper management sitting a step below executive leadership. McCool said Bunzl was looking at "skills we don't organically grow," citing areas in tech like analytics and digital development. For Stoddard, the impetus for RelaDyne is to hire truck drivers, something the company dedicates three full-time recruiters to. He added that the focus goes beyond recruiting to developing and training drivers, "so we're an ambassador and not the least common denominator."
Starr said his company has more than doubled its HR team and begun developing more roles in-house, which has brought down its turnover rate. Another effort from Do It Best has been to change its headquarters building "from a warehouse with no windows to a downtown, urban environment on a multifunctional campus." He added that this has had a "tremendous impact," particularly as it relates to younger individuals and the appeal of the workplace.
Stoddard noted that "culture eats strategy every day" and that there is a need for companies to open the door "and then close the back door" – in a nod to retention. In response, Starr added that he believes distributors "can sell purpose very well, but don't do justice to the aspect of culture in recruiting and retention."
Expectations:
Moderator Short closed the presentation with a compelling question for the panelists: Name one thing about distribution that you're certain will stay the same for the foreseeable future, and one thing that you're certain will change.
Starr referred to "the pernicious difficulty of accurately forecasting demand" as a longstanding issue he expected to remain. As for something he hoped would change, Starr said he hoped that there would eventually be more concrete data around the value of remote work.

McCool said he was certain that the time-tested adage "if you want to get paid, you need to add value" would remain. He also said he believed that "when and how we add value will change."
For Stoddard, the tried and true mainstay of distribution is a dependence on quality of people, and he added that "in distribution, there is a silver bullet – and it's hiring, training and retaining quality people." As for what will change, he pointed to ever-advancing technology and how it would continue to improve operations.