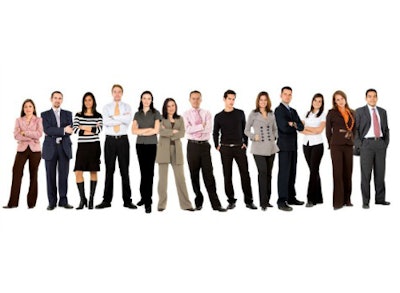 CHICAGO — Through new market research commissioned by Industrial Careers Pathway (ICP), we now have benchmarks relating to the attitudes of Millennials toward careers in industrial distribution. As the Millennial generation expands their ranks in the workforce, understanding their attitudes is a vital aspect of the work of ICP in helping meet the need for a skilled industrial distribution workforce for today and tomorrow.
With a focus on Millennials who would be likely candidates for entry-level positions, survey respondents were not planning on attending a four-year college. Additionally, respondents were chosen who self-selected at least four of the following six key characteristics: like knowing how things were made, want a hands-on career, consider themselves problem-solvers, like working with people, like math and numbers, and they like working on cars/machines. Researchers, using a statistically representative model of the targeted population, surveyed 533 respondents from North America between the ages of 16 and 24.
Respondents were initially asked if they had ever heard of a job field called industrial distribution. Only 15 percent of respondents said they had previously heard of industrial distribution. Terry Knight, ICP Steering Committee Chair commented, "We've always known that industrial distribution is a best kept secret. Now we know for sure that there are very few young people who know all that our diverse field has to offer."
All respondents were then asked to read two short paragraphs describing industrial distribution. After reading the descriptions, all respondents were asked how appealing the field of industrial distribution was to them. Sixty-one percent marked either "very" or "somewhat appealing." Some comments from responders include: "I love to work hands on, and working in a field where I can learn and advance will be a great environment for me." "The position for distributing and selling parts and services in this area spans and covers things on a national level. This being such a large and important part of the economy, there would be many opportunities as well as need for smart, driven individuals."
ICP's NAHAD member representative, Curtis Sprague, Branham Corporation-Mt. Empire Rubber Co., states, "It's encouraging to see the majority of our sample expressing positive attitudes toward the profession, once they understand what we do." Jay Wilson, ASA member representative from Plumbing Distributors, Inc., adds, "ICP is working to raise awareness of the industry to benefit employers. With the enhanced marketing and communication efforts ICP will execute in 2015, we can expect industry awareness among our target group to increase."
Using these numbers as a baseline, ICP will conduct a follow-up survey in 2017 to see how many more young people will then be aware of the incredibly rewarding field of industrial distribution.
ICP is a multifaceted North American workforce initiative supported by an alliance of industry associations ICP links students and job seekers to career paths in industrial distribution and manufacturing through partnerships with local educators and employers. For more information, visit www.industrialcareerspathway.org.