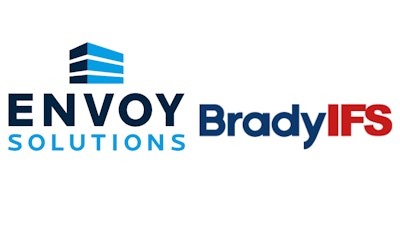 GLENVIEW, Ill., and BELL, Calif. — BradyIFS, a distributor of foodservice disposables and janitorial and sanitation products, and Envoy Solutions, a provider of jan-san products, foodservice disposables, industrial packaging and marketing execution, jointly announced the two companies plan to merge.
Terms of the merger were not disclosed.
The combination of BradyIFS and Envoy Solutions will result in one of the country's most balanced providers of foodservice disposables and jan-san products and will expand BradyIFS' reach into industrial packaging. The combined enterprise provides numerous benefits, including: further end market and geographic diversification; additional scale; the ability to cross-sell a broader range of highly complementary product portfolios to customers; improved exclusive branded product offerings and global sourcing capabilities; a significant expansion of the distribution footprint with over 175 facilities; and additional leadership talent and depth.
"This transformational partnership will enable us to expand our market reach and further improve our collective capabilities," said Kenneth D. Sweder, chairman and CEO of BradyIFS. "Envoy Solutions is an impressive business that is highly complementary to BradyIFS. As important, it has great leadership. Mark Fisher and his team are first-class, and we are fortunate to partner with their incredible team of associates. Our two companies are like-minded as we share similar values, culture, and a passion for delivering the best to our customers. Combining our companies to become one will unlock tremendous value and benefit our teams, our customers, and our suppliers. I want to welcome Envoy Solutions, Warburg Pincus, and FEMSA to BradyIFS and to thank Kelso for their continued partnership and support."
"I'm excited to partner with BradyIFS," said Mark M. Fisher, CEO of Envoy Solutions. "I look forward to working with Ken and his team to accelerate our growth by combining our resources and expertise, enhancing our value proposition, and deploying even more capital in support of growth. This partnership honors and enhances Envoy Solutions and provides exciting opportunities for our entire team."
BradyIFS is a portfolio company of Kelso & Company and its affiliate funds and Envoy Solutions is currently a subsidiary of Fomento Económico Mexicano, S.A.B. de C.V. This merger introduces a new strategic and financial partnership with Warburg Pincus LLC and its affiliate funds, a leading global private equity firm focused on growth investing. Upon closing the Merger, Kelso, Warburg Pincus, and BradyIFS management will collectively become majority owners in the combined business and control the board. FEMSA will maintain a significant minority share in the combined business with representation on the board.
The merger is expected to close in the coming months, subject to regulatory approval and customary closing conditions. Until then, the two companies will continue to operate independently.