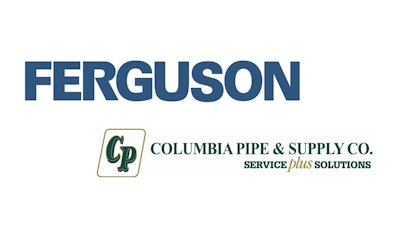 England-based Ferguson plc, the world's largest distributor of plumbing supplies, announced Wednesday that it has agreed to acquire Columbia Pipe & Supply Co.

Based in Chicago, Columbia Pipe & Supply is an independent distributor of PVF, commercial mechanical, commercial plumbing, industrial, valve automation, engineered products and hydronics. The business was founded in 1935 and employs approximately 375 associates, with 16 locations across Illinois, Wisconsin, Minnesota, Michigan and Indiana. For the full year 2019, Columbia Pipe generated revenue of $220 million.
"Chicago is the third-largest city in the US with a substantial commercial market. Columbia Pipe has a strong reputation and well-established vendor and customer relationships in this important region," said Kevin Murphy, Ferguson group CEO. "This acquisition accelerates our Chicago market strategy and will allow us to rapidly expand our existing capabilities across the Midwest."

Pending regulatory approval, the deal is expected to close during Ferguson's current fiscal quarter. Terms were not disclosed.
Operating primarily in North America, Ferguson brands itself as the world's largest specialist trade distributor of plumbing and heating products to professional contractors. For its fiscal year that ended July 31, 2019, total revenue was $21.8 billion, with profit of $1.6 billion. Formerly known as Wolseley, Ferguson has North American headquarters in Newport News, VA. In the US, Ferguson operates 1,491 branches and 10 distribution centers with about 27,000 employees.