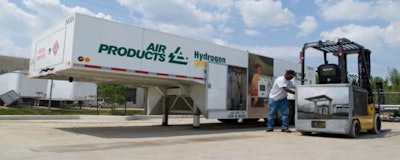 LEHIGH VALLEY, PA — Air Products announced Wednesdayit has acquired the Rotoflow turboexpander business from Baker Hughes, a GE company. Air Products acquired all engineering and service capabilities to continue providing service to Rotoflow customers. The transaction closed June 30, and financial terms are not being disclosed.

This acquisition extends Air Products' existing world-scale industrial gas and liquefied natural gas turboexpander capabilities into growing hydrocarbon, petrochemical and energy segments.
"Air Products already provides key proprietary equipment, services and industrial gases to many existing Rotoflow customers, and we are looking forward to expanding those relationships," Air Products' Executive Vice President Dr. Samir J. Serhan said.

Air Products has designed and manufactured over 1,600 turboexpanders as an integral part of large industrial gas and LNG projects executed over the company's 75+-year history. Recent projects include the world's largest industrial gases facility in Jazan, Saudi Arabia and the proprietary LNG technology provided for the floating liquefied natural gas projects off-shore Malaysia. Both projects utilized Air Products' turboexpander technology. The integration of the Rotoflow technology will enhance Air Products' existing capabilities.

The combination of the existing Air Products and Rotoflow turboexpander capabilities will be integrated into a new Air Products business division known as "Rotoflow, an Air Products Business."

"We are confident Air Products will be a great home for the Rotoflow turboexpander business," said Luca Maria Rossi, Vice President Product Management of BHGE's Turbomachinery & Process Solutions. BHGE will continue to supply Turboexpander units and related services, which are suitable for a variety of gas processing and other industrial applications, under the trade name of Nuovo Pignone."