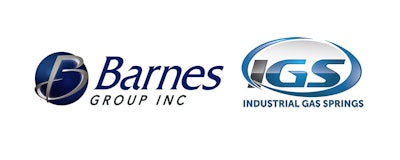 BRISTOL, CT — Barnes Group Inc., a global provider of highly engineered products and differentiated industrial technologies, announced Monday that it has acquired Industrial Gas Springs Group Holdings Limited. IGS is a recognized designer, manufacturer and supplier of customized gas springs.
IGS is headquartered in London, England, with distribution and assembly capabilities in the United States in Chicago and Philadelphia. The company has diversified end markets including general industrial, transportation, aerospace and medical, among others. IGS will operate as a business within Barnes Group's Industrial Segment, as part of the Nitrogen Gas Products (NGP) strategic business unit.
"We look forward to adding IGS's force and motion control product applications to our NGP business," said Scott Mayo, Senior Vice President of Barnes Group Inc. and President of Barnes Industrial. "Their complementary, highly diversified end markets and strong customized product application engineering represent a great opportunity for us to scale and broaden NGP's technology portfolio and customer base."
The transaction is not material to Barnes Group's consolidated financial position or liquidity.