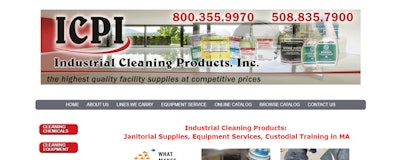 MINDEN, LA — T-S Holdings, Inc. (d.b.a. Triple S Holdings) announced Wednesday the asset purchase of Industrial Cleaning Products, Inc., (ICPI) of West Boylston, MA.

Industrial Cleaning Products, Inc., (a Member of Triple S since 2003) is a long-standing organization with a broad base of customers in the Central Massachusetts market area.
"We are very excited to welcome Industrial Cleaning Products and the ICPI Team to the Triple S Holdings family of businesses", stated Alan E. Sadler, President, Triple S Holdings.

"At 76 years of age I can with confidence say that I am ready to ease into retirement," said Fran Tighe, past president and co-owner of ICPI. "Knowing that there was not a third generation in line to take over the business, Michael and I decided that this was a good time to sell. Finding a buyer that would continue to provide opportunities for our employees and continue to provide our customers with the level of service and support that they have come to expect was a primary concern for us. Triple S Holdings provided us the opportunity to accomplish both of these goals; keeping ICPI in the Triple S Family made the decision easier for us."

Sadler further stated: "Fran Tighe will be taking on a consulting role and assisting with the transition of customers to the company's established sales team for the next 12 months. In addition, Michael Tighe will be serving as the Branch Manager of Triple S – Central Mass in the near term and then transitioning to a role at Triple S Holdings corporate. I am also pleased to announce that Eric O'Connor will be serving as the Branch Director of Sales for Triple S – Central Mass."

Triple S Holdings was created, in part, to provide Triple S Members and non-member owners of jan-san distribution companies an exit strategy that would allow them to transition out of their businesses in a manner that would be least disruptive to their employees and customers. As an organization, Triple S is dedicated to the ongoing prosperity of independent distribution and as such Triple S Holdings is a natural fit for owners that are looking to exit their business.