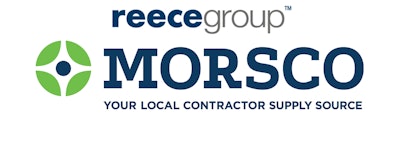 Fort Worth, TX-based MORSCO — a distributor of commercial and residential plumbing, waterworks and HVAC supplies — recent announced a slew of company news, the biggest of which is that it has been acquired.
The company announced May 7 that Australia-based plumbing, HVAC and waterworks distributor Reece Group has agreed to acquire MORSCO for an undisclosed amount. Founded in 1920, Reece Group has more than 5,300 employees throughout 600 branches in Australia and New Zealand, servicing the plumbing, bathroom, building, civil, irrigation, heating, air conditioning and refrigeration industries.
"The Reece track record of innovation is truly world class and their customer offer is second to none. We can't think of a better home for MORSCO," said Chip Hornsby, MORSCO CEO. "Our team is very much looking forward to the opportunity to join forces with a successful, strategic, long‐term industry player and we believe there will be many opportunities for cross‐pollination of ideas and talent over the years ahead."
Headquartered in Burwood, Victoria — a suburb of Melbourne on Australia's southeast coast — Reece Group brands itself as Australia's largest plumbing and bathroom supplies business, while also operating in eight other industries.
Owned by Advent International, MORSCO has 2,500 employees and distributes more than 125,000 products through its 171-branch network in 16 states along the southern U.S. Sun Belt region.
"We're excited to be entering a long‐term partnership with MORSCO to invest in the growth of their business in the local U.S. market. It's a market that's forecast to grow at twice the rate of the local Australian market and it is currently about eight times the size," said Peter Wilson, Reece Group CEO. "By working with this experienced local team led by Chip Hornsby, we are writing the next chapter of Reece's growth for the benefit of our team, our customers, our suppliers and the long‐term wealth generation of our shareholders."
New MORSCO Plumbing, Waterworks Leadership
On May 21, MORSCO announced changes to the leadership at its Plumbing and Waterworks business units. The company said Drew Roberts will lead the Plumbing operations, while Mike Swedick will return to the Waterworks division, effective immediately.
Roberts most recently served as Regional Vice President, West, for MORSCO's Plumbing operations since 2017. He joined the company as a branch manager with Morrison Supply Company in 2013 and was promoted to General Manager of MORSCO's Farnsworth Wholesale Company brand in 2015. Previous to joining MORSCO, Roberts spent nearly 13 years in a plumbing sales role.
Swedick has served as both President of the Plumbing and Waterworks operations for MORSCO since 2017. He joined Fortiline Waterworks, one of the largest distributors of underground water, sewer and storm utility products in the United States, in early 2011 and was named VP of Sales in late 2011. He was named Chief Operating Officer in 2014 and President and CEO in 2015. MORSCO acquired Fortiline in October, 2016. Previously, Swedick spent eight years in the waterworks distribution business and nearly 20 years in sales and leadership positions at Advanced Drainage Systems, Inc., a leading manufacturer of HDPE polyethylene drainage pipe products.
Roberts and Swedick join MORSCO HVAC Supply president Jim Mishler as a part of MORSCO's business unit leadership team.
"Both Drew and Mike have had tremendous success in their MORSCO careers and have proved that they can lead effectively, work closely with our local associates, and grow our business," said Chip Hornsby, MORSCO CEO. "With our three division Presidents in place now, and our partnership with the Reece Group on the horizon, we are poised for incredible success at MORSCO well into the future."

MORSCO Acquires Bush Supply To Boost HVAC Unit
On April 23, MORSCO HVAC Supply — which was launched just five days earlier — announced that it has acquired Phoenix, AZ-based HVAC distributor Bush Supply.
Bush Supply was founded in 1987 by Wayne Bush. Anchored by its custom sheet metal shop, the company grew over time to become a successful HVAC distributor that delivered more than just products.
With the deal, 12 Bush Supply employees and its one location in Phoenix become a part of the MORSCO HVAC Supply family. It becomes the unit's second location in the Phoenix area, joining Farnsworth Wholesale Company in Mesa, AZ. Both locations will operate under the MORSCO HVAC Supply brand name.
MORSCO HVAC Supply said it has plans to open several additional branches across the U.S. in 2018.
"This acquisition of Bush Supply is one of the first steps toward achieving our goal of better focusing our HVAC operations and providing customers the HVAC inventory they need when they need it," said Jim Mishler, president of MORSCO HVAC Supply. "We're excited for the Bush Supply team to join us and are ready to welcome our Phoenix customers. We look forward to further building our MORSCO HVAC Supply network of branches with local, dedicated experts who can offer a superior level of support and expertise."