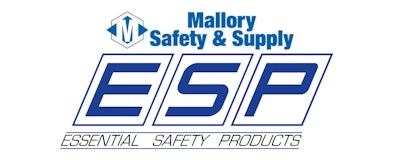 Denver, CO-based distributor Essential Safety Products recently announced that it has been acquired by Longview, WA-based Mallory Safety and Supply for an undisclosed amount. As of April 30, Essential is now doing business as ESP, a division of Mallory Safety and Supply.
Essential is a distributor of industrial PPE and facility safety products, while offering services of equipment rental, service & repair and safety compliance management, as well as safety training programs. It has locations in Colorado locations in Denver and Pueblo, and New Mexico location in Albuquerque and Farmington.
"Essential Safety Products has a wonderful training facility in Denver, a great group of service technicians for fall protection, breathing air, and gas detection, and a knowledgeable inside and outside team," said Tim Loy, Mallory president. "The geography, the safety expertise, the motivated team, makes this a perfect fit for our continued goal to be the best safety distributor in the Western U.S."
"Mallory provides us with tools and capabilities, particularly with expanded product line, vending solutions, training, turnaround and a rental fleet, to really allow us to be a better safety and supply chain resource for our customers," added Ed Stephenson, vice president of ESP. "We think it is a winning combination."
This is Mallory's 18th acquisition in the industrial and safety space, following its recent acquisitions of Portland, OR-based United Fire Health and Safety in 2017 and San Diego-based RJ Safety Supply in 2016. With the addition of ESP, Mallory now has approximately 300 employees — including 60 outside sales reps — and 19 locations across the states of Washington, Oregon, California, Idaho, Nevada, Colorado, New Mexico and Wisconsin. The company has $22 million in inventory.
"Essential Safety Products has enjoyed our 59 years serving the Denver and surrounding area, and we are excited to continue to do so as part of the largest independent safety distributor on the West Coast," Stephenson said.
In a letter to customers, Stephenson highlighted the following benefits of the acquisition for Essential:
More Rental: A combined fleet of over $2 million dollars in gas detection, breathing air, fall protection, and ventilation equipment is available for rent
More Products: At our core we are a safety distributor, but to drive customer value we have added Industrial MRO, Public Safety, Janitorial, Cleanroom and Construction supplies allowing customers to leverage consolidation and standardization cost savings opportunities, so we can now support you with a broader range than just safety.
Diamond M Products: Mallory is not just a distributor, as Mallory manufacturers its own line of third part tested best-in-class safety products under the Diamond M brand, offering style, value, and unique solution
More Geography: 18 West Coast locations in CO, NM, CA, WA, OR, NV and ID
Robust Supply Chain Management: Including Vending, RFID, Virtual Cribs, VMI and On-Site Stores. Mallory owns its own vending solution and sells it to many other distributors across the country and has unsurpassed vending expertise and solutions offering the most ease of use. We've been trained up and would love to discuss how vending could reduce consumption, increase availability, and drive efficiency i your organization.
Safety Staffing: Degreed safety professionals deployed all over North America on short or long-term projects.
ENSA Training: Work at Height Rescue training. Classrooms across the US, as well as a 28' portable training tower.