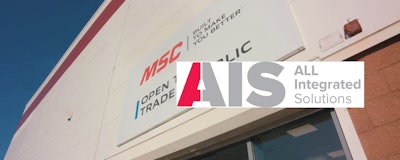 MRO and metalworking products and services distributor MSC Industrial Supply has announced its second acquisition in nine months, on Tuesday stating it has purchased All Integrated Solutions from private equity firm High Road Capital Partners.
Franksville, WI-based AIS is a value-added distributor of industrial fasteners and components, MRO supplies and assembly tools for use in the assembly of manufactured commercial and consumer products. AIS has 135+ employees that serve the Midwest states of Wisconsin, Minnesota, Michigan, Iowa, Indiana and North Dakota.
MSC said the purchase price was $86 million — $20 million more than AIS' 2017 full-year sales.
MSC said it plans to maintain AIS's operations, gaining MSC access to AIS' 1.5 million+ product portfolio. MSC will extend AIS's production fastener and vendor-managed inventory solutions to MSC's manufacturing customers.
"AIS represents an exciting opportunity to advance MSC's growth plan. Its assembly and fastener products and specialists extend our expertise and fortify our experienced team of associates in delivering solutions to help customers solve their mission-critical challenges on the plant floor," MSC president and CEO Erik Gershwind said. "In addition, AIS also complements our robust Class C fastener offering and VMI solutions."
AIS acquired Grand Rapids, MI-based distributor Great Lakes Fastener Corp. in 2016 for an undisclosed amount.
"MSC shares our passion for delivering high-touch, custom solutions that go well beyond ordering MRO and production products online," said Jim Ruetz, CEO of AIS. "Both organizations make sure the right fasteners and supplies are available when our customers need them without fail. We are looking forward to providing even more turn-key solutions to our customers by leveraging MSC's vast MRO and metalworking product and solutions portfolio, as well as expanding our reach as a leading distributor of industrial OEM components in the Midwest."
For MSC, the move follows its 2017 acquisition of DECO Tool Supply, an industrial distributor based in Davenport, IA for approximately $42 million.
MSC — No. 11 on Industrial Distribution's 2017 Big 50 List — reported continued strong fiscal results in its 2018 second quarter earnings report on April 10 (MSC's fiscal year starts in September). MSC's Q2 sales of $769 million grew 9.3 percent year-over-year (YoY), following Q1's growth of 12.0 percent. The DECO acquisition boosted Q2 sales by $30 million and represented 430 basis points of acquisitive growth. MSC's Q2 total profit of $117.6 million essentially doubled that of Q1, as the company had a $58.1 million tax benefit attributable to the Tax Cuts and Jobs Act. Q2's operating profit of $98.1 million increased 13.2 percent YoY, while operating margin of 12.8 percent was a 50-basis-point expansion YoY.