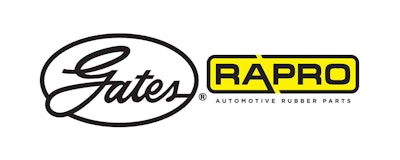 DENVER, CO — Gates Industrial Corporation plc, a global provider of application-specific fluid power and power transmission solutions, announced April 26 that it has completed the acquisition of Rapro, a Turkey-based manufacturer of molded and branched hoses and other products used primarily in commercial, heavy-duty and light vehicle replacement applications.
Based in Izmir, Turkey, Rapro has developed a strong position across European markets by engineering, manufacturing and selling a comprehensive portfolio of replacement market products. The company has annual sales of approximately $25 million, operates two manufacturing and distribution facilities and serves customers in over 40 countries. Rapro has developed a strong brand and is known for high quality and service levels, as well as speed to market with new product introductions.
"Rapro's product range, geographic coverage and established customer partnerships accelerate our growth strategy in this core product category focused on replacement markets. The company's products will fit seamlessly into our distribution network and provide further growth opportunities in industrial transportation markets. In addition, Rapro's success in growing its business across developing regions within Europe reinforces our overall strategy to expand in emerging markets," said Ivo Jurek, CEO of Gates. "I'd also like to take the opportunity to personally welcome the employees of Rapro to the Gates family."
The acquisition of Rapro, along with the recent acquisitions of Atlas Hydraulics and Techflow Flexibles, demonstrates Gates' ability to execute bolt-on acquisitions in highly fragmented global markets to accelerate our strategic growth objectives.