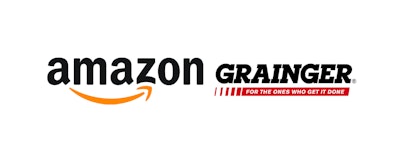 As Amazon continues to make inroads into the industrial supply sector, the elephant-in-the-room over the past several years has been the almost unspoken question of "when will Amazon acquire an industrial distributor?"
The role of Amazon Business in the MRO supply space has been well-documented, by us here at ID and by other sources. But while Amazon Business continues to gain sellers and customers, the rebuttal from distributors has always been that Amazon will never be able to match the service level of distributors. Granted, Amazon does have customer service teams for general e-commerce buying and shipping issues, but it hasn't been able to touch the bread-and-butter services distributors feature — things like product installation, product training, repair, fabrication/refabrication, inventory management, technical expertise and more.
That is, unless Amazon were to buy an industrial distributor to handle those services for them. It's the 'what-if?' question that — if it were to happen — would be a game-changer for all of B2B supply.
Amazon Business hasn't exactly been coy about the potential it sees in the market. In September 2016, it was revealed through anti-trust court documents that Amazon views Grainger — the largest U.S.-based MRO products distributor — as a direct competitor. At the time, Amazon Business chief Prentis Wilson identified Grainger and Staples as the unit's top rivals.
In a contributed column posted by Forbes Sunday, Louis Columbus — principal of manufacturing ERP provider IQMS — went a step further by saying Amazon would be wise to acquire Grainger in 2018 as one of five mega deals the e-commerce giant should make this year to support its acquisition strategy.
Columbus points out Grainger's attractive features of having deep expertise and success with e-commerce in the MRO market and its two-pronged business approach of having a unique, high-tough multichannel model, and single channel model. Columbus noted how 65 percent of Grainger's 2016 sales came via a digital channel and that more than 85 percent of orders were shipped directly to customers or made immediately through onsite services.
"Look for Amazon to make an acquisition in medical supply chains and industrial MRO in the next few years as companies in these industries are developing deep expertise in API and cloud integration, which is a perfect fit for fueling Amazon Web Services (AWS) future business growth," Columbus says before overviewing Grainger.
Grainger's 2018 fact book shows the company estimates the global MRO market value at $377 billion, of which Grainger has approximately 3 percent market share. Grainger values the U.S. MRO market value at $127 billion, of which the company estimates its market share at 6 percent.
The other companies Columbus says Amazon should pursue this year are Best Buy (for consumer electronics), C.H. Robinson (for third-party logistics), Expeditors (for data integration/visibility) and Performance Health (for healthcare supply).
What do YOU think?
Do you foresee Amazon going after the MRO market's largest distributor in Grainger, and if so, how soon? If not, is there another industrial distributor ripe for Amazon? Feel free to comment below.