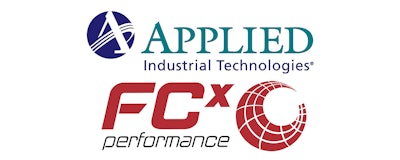 Tuesday became a remarkable day in the industrial products market, as Applied Industrial Technologies announced it will acquire fellow prominent distributor FCX Performance in a deal sure to send shockwaves through the MRO supplies space.
Applied stated it will acquire FCX for $768 million and that the deal is expected to close within 30 days.
Cleveland, OH-based Applied is No. 12 on Industrial Distribution's Big 50 List, while Columbus, OH-based FCX is No. 30. Applied had 2017 full year sales of $2.59 billion, while FCX had 2016 sales of $346 million. The addition will move Applied further into the upper echelon of industrial distributors based on market share, forming a company that has about $3 billion in combined revenue as of the closing date. That would place it right at the No. 9-10 spot on ID's Big 50.
"We are very pleased to announce the pending acquisition of FCX, which further enhances our position as a differentiated industrial distributor," said Neil Schrimsher, president & CEO for Applied. "FCX brings to Applied market leading, value-added specialty flow control expertise with premier brands, high-touch technical service, an extensive footprint, and strong customer relationships. This compelling adjacency move is an excellent fit, especially when considering served industries, customer opportunities, engineering capabilities and value-added services. Our combined resources will make us a leading technical solutions provider with significant opportunities for growth."
According to Applied, it is expecting FCX to contribute considerably more to total revenue than its 2016 numbers. Applied's Tuesday press release stated the deal is "anticipated to contribute approximately $557 million in sales and $68 million in EBITDA in the first 12 months of Applied ownership." It is expected to be accretive in fiscal year 2019 following one-time transaction costs in fiscal year 2018.
Applied describes FCX as the premier distributor of highly engineered valves, instruments, pumps and lifecycle services to MRO and OEM customers across diverse industrial and process end markets, and states that FCX operates 68 locations with more than 1,000 team members.
FCX has been busy on the acquisition trail in recent months. On Nov. 15 it announced the acquisitions of Houston, TX-based Eads Distribution and Charlotte, NC-based The Massey Company. It describes Eads Distribution as one of the foremost flow control distributors of instrumentation and valves in the U.S., and The Massey Company as bringing years of specialty flow control experience and expertise to the FCX Performance portfolio. On Dec. 18 FCX announced it has acquired Midland, TX-based Basin Engine & Pump, one of the premier pump repair houses in west Texas.
And before those acquisitions, FCX announced Oct. 3 that it hired Theron Neese as executive vice president of operations.
"We are extremely excited about the strategic prospects and overall fit with Applied," FCX chief executive Tom Cox said in Tuesday's press release with Applied. "The shared business philosophies and values, as well as the complementary products, custom application expertise, and complete one-stop solutions offering will provide enhanced value for our customers and excellent growth potential for our suppliers and team members."
In Applied's 2018 fiscal Q1, its sales of $680.7 million were up 8.9 percent year-over-year and up 9.2 percent organically. Total profit of $33.7 million jumped 23.2 percent, while gross profit of $192.4 million increased 7.9 percent.
David Wells took over as Applied's vice president – CFO and treasurer at the end of August 2017, following the retirement of Mark Eisele.