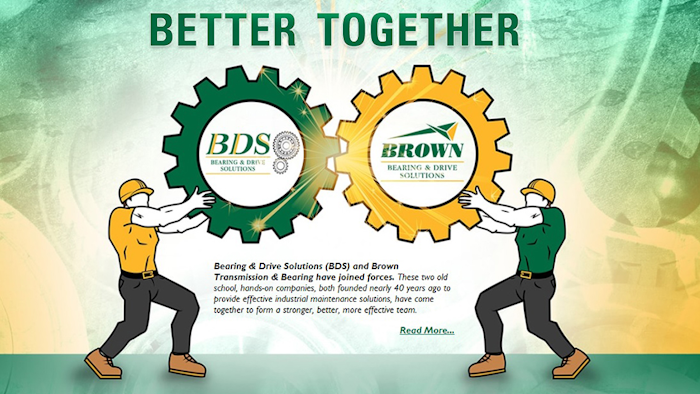 ALLENTOWN, PA — Bearing and Drive Solutions (BDS), a trusted name in industrial distribution since 1978, is merging with another stalwart in the industry, Brown Transmission and Bearing. The merger took effect on Monday, Aug. 14. The merger was a year and a half in the making and should change the face of industrial distribution in eastern Pennsylvania.
Together, the two organizations bring to bear 13 distribution locations — D Electric, the electrical and mechanical repair group; G3 Automation, the BDS automation and panel building division; Talon Bearing, the asset recovery group along Sealing Specialties, a BDS sister company. All totaled, BDS combined with Brown, will now employ upwards of 200 people. The combination of the merged group makes BDS the largest independent distributor in Pennsylvania and quite possibly in all of the northeastern U.S. 
Brown Transmission and Bearing was founded in 1981 by Tom Kealey. Since then, Brown has grown to include four locations and has become a force in the bearing and mechanical power transmission marketplace. Well-known for their customer service and technical prowess, the decision to join forces with BDS will dramatically increase their product and service offerings. 
Bearing and Drive Solutions opened its doors in the spring of 1978 in Souderton, PA. Over the past 39 years, BDS has been busy broadening its product scope well beyond bearings and mechanical power transmission products. The BDS product offering now includes fluid power, material handling, mechanical and electrical repair along with integration and automation.
Combining the experience and expertise of both companies should provide the end-user and OEM marketplace with the most innovative solutions and dynamic customer service yet to be experienced in the industrial distribution industry.