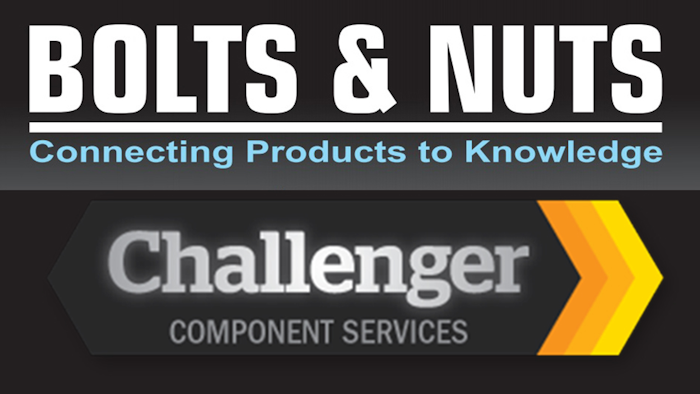 CHATTANOOGA, TN — Bolts & Nuts Corp., a nationwide industrial distribution firm based in Chattanooga, TN, announced it has acquired Nashville, TN-based Challenger Component Services, in support of its growth and expansion strategy. Challenger Component Services is a provider of highly engineered Class C products serving customers throughout the U.S., Canada, Mexico, Europe and Asia.
Bolts & Nuts specializes in offering customized vendor managed inventory and value-added engineered programs for fasteners, MRO & industrial supplies and Class C parts, focusing on increasing efficiency and reducing costs for OEM customers.
With this acquisition, and with the addition of Challenger's teams in Tennessee, Oklahoma and Alabama, Bolts & Nuts Corp will broaden its ability to serve its strategic manufacturers and OEMs, particularly in the automotive and transportation segments, both on and off road, in the U.S., Mexico, Canada, Europe and Asia, where Challenger maintains existing deep customer relationships. Currently, Bolts & Nuts serves customers in over 40 states, Mexico and Europe.
"We are excited to welcome Wade Moore, who will continue to run this important business for us as president of Challenger Component Services, his fantastic team and their valuable customer base to become a part of the Bolts & Nuts Corp. family," said Bolts & Nuts CEO Mike Strunk. "We are eager to broaden our reach for our customers, supporting economic development, job creation and contribution to the Tennessee, Oklahoma and Alabama communities that is core to the Bolts & Nuts values."
"In combining with Bolts & Nuts, our team acquires the advantages of marrying up with a company whose core values focus on delivering value to our four key stakeholders: customers, team members, community and suppliers," Moore said on behalf of Challenger.
As with its other locations in Tennessee, Kentucky, Georgia, North Carolina, Nebraska and Illinois, the Nashville, TN, and Chickasha, OK (in the Oklahoma City MSA) and Birmingham, AL teams will continue on the rapid growth trajectory that Moore and his team have embarked on for several years.  Challenger will continue to utilize its expert global team to directly source parts both internationally and domestically.