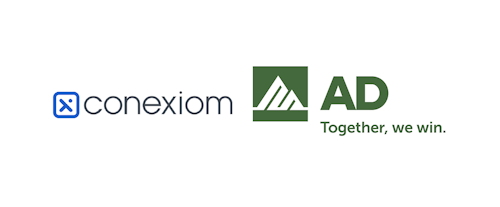 VANCOUVER, BC — ecmarket, creator of Conexiom Sales Order and Invoice Automation, has announced its membership with AD, a dynamic community of independent distributors and manufacturers of construction and industrial products. This partnership will provide enhanced support and resources to help accelerate growth for both Conexiom and member businesses. As an AD Service Provider, Conexiom will be an authorized supplier of order-to-cash and procure-to-pay automation solutions.
Stan Haas, Chief Operating Officer of AD, said, "We are excited about the addition of Conexiom as an AD Service Provider. Conexiom offers our members a unique solution that can provide them a competitive edge in their industry."
"We are very pleased to become an automation solution vendor for the AD network," adds Brent Halverson, President & CEO of ecmarket. "Conexiom aims to solve competitive business goals for wholesale distributors and manufacturers such as maintaining a high level of customer service while processing orders with 100 percent accuracy. Some of AD's existing members have already experienced enormous returns using Conexiom, and we are excited to be able to provide the solution to other AD members."
Conexiom revolutionizes sales and accounts payable document processing by eliminating the time-consuming manual components. Its unique 100 percent data accurate automation solution transforms the way distributors and manufacturers do business. Conexiom enables greater efficiency by eliminating the need to manually enter faxed or emailed customer orders and supplier invoices, while preventing costly keying errors, reducing transactional costs, and accelerating order and purchase-to-pay cycle times.
Digitally transforming operational efficiencies can deliver some of the biggest returns on investment. For distributors and manufacturers, manually keying in documents like purchase orders or accounts payable invoices wastes considerable time and offers no incremental value to their business. Conexiom helps organizations across the globe maintain a competitive edge.