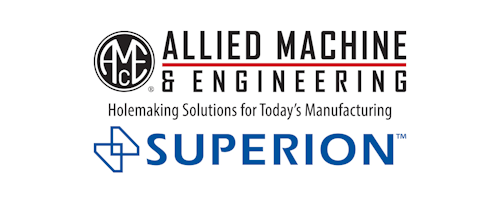 DOVER, OH — Allied Machine & Engineering, a manufacturer of holemaking and finishing tooling systems, announced it has purchased Superion, Inc of Xenia, OH.
Superion built its reputation as a manufacturer of innovative, special solid carbide and PCD tipped rotary cutting tools such as end mills, reamers, drills, and step tools. They are widely recognized as experts in developing customized solutions in specialty tooling. With one innovation after another, they have continually reinforced their reputation as a provider of customized, specialty tools.
"By acquiring Superion, Allied has added a wealth of over 50 years of experience in special tool manufacturing. Their highly-skilled associates operate CNC equipment and utilize sophisticated quality control systems to ensure the highest standards of quality" said Bill Stokey President/CEO of Allied Machine & Engineering. "Their product expertise will provide tremendous opportunities for the growth of Allied products."
Customer sales and support will continue to be provided by both Allied and Superion, reflecting the strong relationships established by both companies.
"I look forward to this new relationship with Allied and all of the additional resources that come with it," adds Al Choiniere, President of Superion, Inc. "Our combined skill sets will enable Superion to carry on, and expand, our long-standing tradition of innovation in the holemaking sector."
Dover, OH-based Allied Machine & Engineering is a manufacturer of holemaking and finishing tooling systems. Allied devotes its advanced engineering and manufacturing capabilities to creating a wide selection of value-added tooling available to metal-cutting industries around the world.