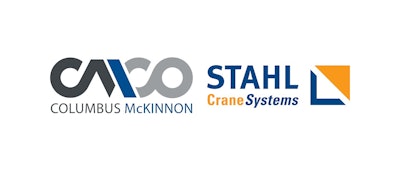 AMHERST, N.Y. — Columbus McKinnon, a designer, manufacturer and marketer of material handling products, technologies and services, on Wednesday announced that it has reached an agreement to purchase STAHL CraneSystems, a business of Konecranes Plc.
STAHL is a manufacturer of explosion-protected hoists and crane components and is well known for its custom engineering of lifting solutions and hoisting technology. STAHL serves independent crane builders and Engineering Procurement and Construction firms, providing products to a variety of end markets including automotive, general manufacturing, oil & gas, steel & concrete, power generation as well as process industries such as chemical and pharmaceuticals. Konecranes is divesting STAHL as a result of the European Union anti-trust review related to their pending acquisition of Terex Corporation's Material Handling & Port Solutions business.
Timothy T. Tevens, President and CEO of Columbus McKinnon, commented, "We have long viewed STAHL as an ideal complement to Columbus McKinnon EMEA, as well as an excellent expansion of our global product offering. Their strong position with wire rope and electric chain hoists in Europe immediately complements our leadership of handheld hoists in that region, and their broad portfolio of ATEX certified explosion-protected products serving the mining, oil & gas and chemical processing industries significantly extends our global offerings in capability and capacities."
The all-cash transaction value for the acquisition is $240 million with an earn-out potential up to $246 million, if certain earnings goals are met for calendar year 2016. Cost synergies of approximately $5 million are expected to be realized in Fiscal 2018, growing to approximately $11 million in Fiscal 2019. Columbus McKinnon estimates one-time transaction related costs in fiscal 2017 between $8 million and $9 million, as well as one-time restructuring costs of $6 million in fiscal 2018
Columbus McKinnon's acquisition of STAHL is expected to close between Jan. 31, 2017 and April 30. The closing is subject to European Commission approval, the successful closing of the pending acquisition of certain Terex subsidiaries by Konecranes, and other customary conditions.
Founded in 1876, STAHL has approximately 650 employees that support the manufacturing operation located in Germany and its nine affiliated sales companies around the world. For the trailing 12-month period ended Sept. 30, 2016, STAHL had total revenue of approximately $166 million. Geographically, STAHL revenue is approximately 71 percent EMEA, 16 percent Americas and 13 percent Asia Pacific.