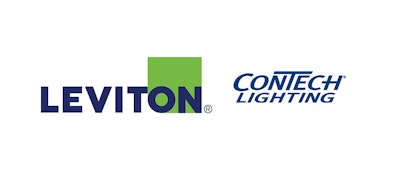 MELVILLE, N.Y. — Leviton on Monday announced the acquisition of ConTech Lighting, a Chicago-based manufacturer of high-performance and sustainable lighting solutions and fixtures. Through this acquisition, Leviton continues its strategic growth in lighting and expands its product offerings and solutions with ConTech Lighting's high-quality, innovative designs.
"As a leading lighting manufacturer in sustainability, performance and design, ConTech Lighting is a perfect fit into the Leviton family of products, brands and services," said Don Hendler, chief executive officer of Leviton. "We are excited to enhance Leviton's lighting offerings and broaden our portfolio of solutions for customers together with ConTech Lighting."
The ConTech Lighting acquisition marks Leviton's second in the lighting industry in the U.S. as the company looks to expand further into this market. In May 2015, the company announced their acquisition of Intense Lighting, LLC, a solutions-based manufacturer of LED luminaires based in Anaheim, CA.
"As a leading innovator and manufacturer of electrical wiring devices, including lighting controls, the ConTech Lighting acquisition reflects our company's progression and strategic growth toward innovative solutions," added Daryoush Larizadeh, president and chief operating officer of Leviton.
Following the acquisition, John Ranshaw, president and chief executive officer of ConTech Lighting, will report to Larizadeh. Leviton and ConTech Lighting will continue to maintain their separate agent networks and distribution channels following the acquisition to ensure that customers continue to receive the attention and service they've come to expect.
"ConTech Lighting has developed a reputation as a lighting manufacturer committed to providing the best fixture design and product engineering available," added Ranshaw. "Under the leadership of and collaboration with Leviton, we look forward to developing even more innovative solutions for our customers for many years to come."
Chairman of E&A Companies and owner of ConTech Lighting, Al Hubbard, said he is proud of what the ConTech Lighting team has accomplished over the last 18 years. "ConTech Lighting President John Ranshaw and Vice President Tim Brennan led a team of talented people that took a small importer of light fixtures and turned it into a large, engineering-driven light fixture company on the leading edge of LED technology," said Hubbard. "We are delighted to see Leviton embrace the company's success and proud that ConTech Lighting and its employees will be associated with such a highly respected and successful family-owned company."
Leviton provides a comprehensive range of solutions to meet the needs of today's residential, commercial and industrial buildings. Leveraging more than a century of experience, Leviton helps customers create sustainable, intelligent environments through its electrical wiring devices, network and data center connectivity solutions and lighting energy management systems. From switches and receptacles, to daylight harvesting controls, networking systems and equipment for charging electric vehicles, Leviton solutions help customers achieve savings in energy, time and cost, all while enhancing safety.
ConTech Lighting is a source for high-performance and sustainable lighting solutions. Today its product offering includes track, decorative, pendant, cylinder, recessed, sconce, accent, display and emergency lighting fixtures.