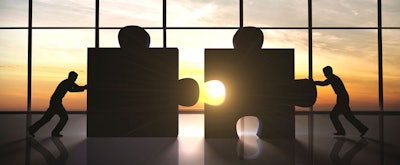 As the leaves change color and we become fully immersed in football season, the industrial economy continues to improve.
The Institute of Supply Management's August Purchasing Managers Index showed a reading of 58.8 — a sizeable 2.5-percentage point jump from July — to its highest mark since April 2011. Following that, the Industrial Supply Association's Distributor and Manufacturer Indexes both had major increases in August, with the Distributor Index reaching its highest mark (71.2) since September 2014, while the Manufacturer Index rose to 67.2 as its highest mark since October 2016. All three indexes point to strong growth for the industrial products market.
With that, merger & acquisition activity remains plentiful across the market. We posted 32 M&A news items on ID in the third quarter of 2017 (July through September), in line with the 35 we posted in Q2.
Below is a chronological recap of M&A activity that occurred in Q3 2017. Of course, this doesn't cover every deal that's happened, as not every distributor or supplier acquisition is made public. I've also included divestments in this list. Some of these deals were finalized earlier, but weren't announced immediately. And, while some of the companies involved here aren't 'industrial' distributors or suppliers by definition, they are still relevant to the market.
July
Brady Industries Acquires Denver's Walter Industrial & Sanitary Supply: Brady Industries, a full-line janitorial supply, equipment and foodservice distributor, recently announced the acquisition of the Denver, CO operations of Walter Industrial & Sanitary Supply. For almost 60 years, Walter Industrial has been servicing the Denver metro area. They have an exceptional reputation built on quality products and local service.
Timken Stays On Acquisition Trail, Will Add India's ABC Bearings: One week after announcing a pending acquisition of Dutch automation lubrication solutions provider Groeneveld Group, Timken shared news July 5 that its India subsidiary has agreed to acquire India-based ABC Bearings Ltd. Financial details were not disclosed for the transaction, which is expected to take at least six months to complete. Headquartered in Mumbai, ABC is a manufacturer of tapered, cylindrical and spherical roller bearings and slewing rings. It operates primarily out of facilities in Bharuch (Gujarat) and Dehradun (Uttarakhand). According to Timken, ABC serves an established original equipment customer base in India, focusing on heavy truck and off-highway industries. Its 2016 sales were approximately $29 million.
Home Depot To Acquire Compact Power Equipment For $265M: Home Depot is making another move to boost its offering to professional customers, as the home improvement retailer announced July 6 that it has agreed to purchase Compact Power Equipment Inc.for $265 million. Headquartered in Fort Mill, SC, Compact Power is a national provider of equipment rental and maintenance services and has been a commercial partner of Home Depot since 2009. In early 2015, it surpassed 1,000 stores across the U.S. and Canada. Home Depot said the transaction was expected to close by the end of its fiscal second quarter.
Bridgestone HosePower Acquiring Seattle-Based Fittings Inc.: Bridgestone HosePower, a wholly-owned indirect subsidiary of Bridgestone Corporation, announced July 10 that it is expanding its hose solutions business in the Pacific Northwest by acquiring Fittings, Inc., a hydraulic and industrial hose sales and service company based in Seattle. The move helps HosePower become one of the largest networks specializing in hose sales and service in the U.S. According to the agreement, Fittings' 16 current employees will be offered positions within HosePower, including two of the three former owners, Douglas Kennedy and Murray MacLean.
Riverside Tool Acquires General Saw Corp.: Elkhart, IN-based Riverside Tool Corp. — a supplier of custom profile tooling carbide, Riverloy and diamond materials — recently announced the acquisition of Cape Coral, FL-based General Saw Corp. Terms were not disclosed. Founded in 1937, General Saw manufactures carbide-tipped saw blades for the wood, plastics and acrylics markets. It is now a brand under Riverside Tool, with Ray Kordecki managing product sales and engineering.
Chattanooga-Based Bolts & Nuts Acquires Macon, GA Distributor: Bolts & Nuts Corp., a nationwide industrial distribution firm based in Chattanooga, TN, announced it has acquired Macon, GA-based Industrial Fastening of Macon, in support of its growth and expansion strategy. With this acquisition, and with the addition of the team in Macon, Bolts & Nuts will broaden its ability to serve its strategic manufacturers and OEMs in the state of Georgia. Bolts & Nuts serves customers in over 40 states, Mexico and Europe.
NN Inc. Selling Precision Bearing Components Group To Japan Company: Johnson City, TN-based bearings maker NN Inc. announced in July that it is selling its Precision Bearing Components Group (PBC) to Japan-based Tsubaki Nakashima Co., a supplier of industrial precision balls used for bearing and other applications. Tsubaki Nakashima is paying $375 million for the PBC group, with the transaction expected to be completed in the second half of 2017, pending regulatory approval. According to Tsubaki Nakashima's investor presentation about the acquisition, PBC mainly manufactures and sells steel balls, rollers and cages for the bearing industry. It has seven locations globally and had 1,260 employees as of December 2016. It had 2016 sales of $249 million and operating profit of $23 million.
Hydraulic Supply Co. Acquires New Orleans' Fabacher Inc.: Sunrise, FL-based Hydraulic Supply Company (HSC), a fluid power distributor of hydraulic, pneumatic and industrial products and Harvey, LA-based Fabacher Incorporated, a marine exhaust and fluid handling products company, announced July 14 they have entered into a definitive purchase agreement with Hydraulic Supply Company acquiring all of the assets of Fabacher Incorporated.
H.B. Fuller To Acquire Brazil Adhesives Supplier Adecol: H.B. Fuller Company has agreedto purchase adhesives company, Adecol Ind. Química, Limitada, a manufacturer of quality adhesive technologies in Brazil. Adecol works closely with customers to develop innovative, high-quality hot melt, reactive and polymer-based adhesive solutions for customers in the packaging, converting and assembly markets. Based in Guarulhos, Brazil, this business generated nearly $40 million in revenue for the 2016 fiscal year. The company has agreed to pay 8x 2016 EBITDA for the business.
Milwaukee-Based The Tool House Inc. To Acquire Cleveland's Excel Assembly Solutions: The Tool House Inc, a midwest distributor and industrial engineered solutions company for manufacturing, announced July 19 that it signed an agreement to acquire the assets of Excel Assembly Solutions, a provider of industrial tool sales, tool calibrations and service. Excel Assembly Solutions is in the Cleveland, OH area. The Tool House Inc is currently a force in manufacturing technology and engineered solutions for industrial manufacturers with branches in Minnesota, Michigan, Missouri, Iowa and headquartered in New Berlin, WI, a suburb southwest of Milwaukee. The Tool house focuses on the industrial internet of things, error proofing solutions, material handling, as well as, augmented reality integrations. They are known for their strong educational elements for engineers and manufacturing professionals with regional traveling demonstrations and regional specialty trade shows.
Metalworking Distributor JPW Industries to be Privately Acquired: JPW Industries Inc, a Tenex Capital Management portfolio company headquartered in La Vergne, TN, announced July 19 it has reached an agreement to be acquired by funds managed by Gamut Capital Management of New York. The transaction is expected to be finalized by year end according to Robert Romano, JPW Industries CEO. JPW is a global designer, marketer and distributor of branded metalworking and woodworking equipment and specialty shop tools sold under the JET, Powermatic, Wilton, Edwards and Promac brand names. The company has operations in six countries and sells through a network of distributor partners in markets worldwide. Gamut Capital Management is a private equity firm with $1 billion of committed capital for investment. It focuses on making investments in middle-market companies, enabling them to operate as stand-alone, independent businesses.
Motion Industries Acquires Los Angeles' Numatic Engineering: Motion Industries announced July 20 that it entered into a definitive agreement to acquire Numatic Engineering. Execution of the transaction occurred on Aug. 1. Founded in 1955, Numatic Engineering has more than 60 years of experience selling and supporting automation components. Their product offering ranges from pneumatic automation to electrical motion controls, PLCs, VFDs, machine vision, sensors and industrial communication. For more than a decade, Numatic Engineering has been selling multiple lines of robotics, including end-of-arm tooling. Motion says Numatic Engineering is one of the leading companies in California selling and implementing revolutionary "collaborative robot technology." Their sales and application support teams have the in-depth knowledge to help engineers, from both OEMs and end users, apply the right products to solve customers' challenges. Their value-added solutions team, with UL508 listing, provides Numatic Engineering the ability to assemble the products they sell into engineered solutions to meet specific customer needs.
DGI Supply Acquires California's Coast Tool Industrial Solutions: Wheeling, IL-based DGI Supply — No. 35 on Industrial Distribution's Big 50 List — has purchased San Leandro, CA-based Coast Tool Industrial Solutions, a distributor of cutting tools and MRO supplies that also has a location in Fresno, CA. The deal closed on Aug. 26, though no terms were disclosed. According to its website, Coast Tool carries most market leading brands of cutting tools, abrasives, lubricants and coolants, inspection equipment, machine tool accessories and storage solutions.
TestEquity Acquires Grainger Subsidiary Techni-Tool: Six months after announcing the purchase of Stanley Black & Decker subsidiary JENSEN Tools + Supply, California-based TestEquity announced July 26 that it has acquired W.W. Grainger subsidiary Techni-Tool Inc. Worcester, PA-based Techni-Tool provides electronic production supplied and related services to manufacturers in the electronics, telecommunications and medical services industries. TestEquity said that the addition makes it one of North America's largest full-line stocking distributors of test & measurement equipment and eMRO Tools & Supplies. Moorepark, CA-based TestEquity states that Techni-Tool employs about 200 people and offers nearly 25,000 products and services.
Fortive Corp. Acquires Industrial Scientific: Fortive Corporation announced July 27 that it has signed a definitive agreement to acquire Industrial Scientific Corporation, a provider of portable gas detection equipment and a safety-as-a-service pioneer headquarters in Pittsburgh, PA. The transaction is expected to close before the end of 2017.
August
FCX Performance Acquires Engineering Company Encova Inc.: Columbus, OH-based specialty flow control distributor FCX Performance has announced the completed acquisition of Encova Inc., a Cary, NC-based professional engineering company that provides specialized project start-up and commissioning services for customers in the life sciences industry. The addition expands FCX's footprint to 45 offices nationwide.
Camso Acquires San Antonio's Omni Industrial Tire, Grows Material Handling Distribution: Camso is growing its material handling distribution and tire service footprint in southern Texas through the acquisition of Omni Industrial Tire. Omni Industrial is presently the second largest tire specialist in Texas, with four locations and a well-established reputation.
Lampton Welding Supply Acquires Tulsa's Wilbanks Welding Supply: Wichita, KS-based Lampton Welding Supply announced July 31 that it has acquired Tulsa, OK-based Wilbanks Welding Supply. Wilbanks has been operating in the Tulsa market for 34 years, and the addition will expand Lampton's position there. The Wilbanks Welding Supply location will be closed and customers are being directed to any of the three Oklahoma Lampton Welding Supply branches in the area — Tulsa, Sapulpa and Claremore.
SBP Holdings Subsidiary Bishop Lifting Products Acquires Matex Wire Rope: SBP Holdings, through its wholly owned subsidiary Bishop Lifting Products, has acquired Matex Wire Rope, Inc. headquartered in Kilgore, TX. This bolt-on acquisition fits into Bishop Lifting Products growth strategy to accelerate its position in the Texas and Louisiana markets. For over 50 years, Matex has been a supplier of lifting solutions including: sling fabrication, wire rope & rigging hardware, fall protection, cable service, recertification and custom lifting solutions. With branches in Shreveport, LA, Pleasanton, TX, Alice, TX and Midland, TX, the combined companies will now operate 20 branch locations throughout Texas, Louisiana, Oklahoma, Kansas and Colorado. Matex provides sales, service and repair for all types of wire rope and cable, including, drill lines, sandlines, electromechanical cable (EWL) and other specialty cables.
Crescent Electric Supply Acquires Virginia's Womack Electric Supply: Crescent Electric Supply Company has completed the purchase of Danville, VA-based Womack Electric Supply. Founded in 1938, Womack has grown from a single location to achieve sales of $100 million in 2016 with its presence in the Virginia and North Carolina markets. With approximately 150 employees, Womack serves contractor, industrial and government customers from 18 stocking branches in Virginia and North Carolina. The transaction closed on July 31.
MSC Industrial Acquires Metalworking Distributor DECO Tool Supply: Metalworking and MRO products and services distributor MSC Industrial Supply has acquired DECO Tool Supply Co., an industrial supply distributor based in Davenport, IA. Terms of the deal were not disclosed, although Newsday reports that MSC paid approximately $42 million for DECO. Strengthening MSC's presence in the U.S. midwest, the transaction was completed on July 31. DECOs had 2016 sales of approximately $100 million. It has more than 190 employees across its 10 branch offices primarily in the midwest. MSC says that in time, it will be able to provide DECO customers access to MSC's 1 million-plus product portfolio to support their full metalworking and MRO needs.
Kyocera Acquires Fastening Tool Maker Senco: Cincinnati, OH-based powered fastening systems maker Senco announced Aug. 7 that it has been acquired by Kyocera Corp. and will now operate as part of Kyocera's Global Cutting Tool Division. No purchase price was given, but Nikkei Asian Review reported back on June 30 that it is estimated at $178 million. Senco will remain in its Cincinnati headquarters, with its staff and management to remain in place to lead the transition to new ownership. SENCO has nearly 600 employees across 15 global locations. It will now report to Ken Ishii, director and senior managing executive officer and general manager of Kyocera's Corporate Cutting Tool Group.
Swift Industrial Power Expands In Florida, Acquires Battery/Charger Division Of Flood Power: Swift Industrial Power, headquartered in Knoxville, TN, has announced the acquisition of the battery/charger division of Tampa, FL.-based Flood Power Inc. Swift Industrial Power is one of the nation's largest independent stored energy solutions providers and will be adding the customers of Flood Power to its pre-existing business base in central Florida.
Bolts & Nuts Corp. Acquires Challenger Component Services: Bolts & Nuts Corp., a nationwide industrial distribution firm based in Chattanooga, TN, announced it has acquired Nashville, TN-based Challenger Component Services, in support of its growth and expansion strategy. Challenger Component Services is a provider of highly engineered Class C products serving customers throughout the U.S., Canada, Mexico, Europe and Asia. Bolts & Nuts specializes in offering customized vendor managed inventory and value-added engineered programs for fasteners, MRO & industrial supplies and Class C parts, focusing on increasing efficiency and reducing costs for OEM customers.
September
H.B. Fuller Buying Royal Adhesives & Sealants For $1.58 Billion: H.B. Fuller Company announced Sept. 4 that it has signed an agreement to purchase Royal Adhesives & Sealants, a manufacturer of high-value specialty adhesives and sealants. H.B. Fuller says Royal consistently delivers growth rates, EBITDA margins and free cash flow that are expected to enhance H.B. Fuller's position in the adhesives industry.
Bearing & Drive Solutions Merges With Brown Transmission & Bearing: Bearing and Drive Solutions (BDS) is merging with another stalwart in the industry, Brown Transmission and Bearing. The merger took effect on Aug. 14. The merger was a year and a half in the making and, according to BDS, should change the face of industrial distribution in eastern Pennsylvania. Together, the two organizations bring to bear 13 distribution locations — D Electric, the electrical and mechanical repair group; G3 Automation, the BDS automation and panel building division; Talon Bearing, the asset recovery group along Sealing Specialties, a BDS sister company. All totaled, BDS combined with Brown, will now employ upwards of 200 people. BDS says the combination of the merged group makes it the largest independent distributor in Pennsylvania and quite possibly in all of the northeastern U.S.
TPC Wire & Cable Acquires ElectraCord: TPC Wire & Cable Corp.: (TPC) announced Wednesday that on Sept. 1, it completed the acquisition of ElectraCord, Inc. Located in Massillon, OH, ElectraCord is a manufacturer of custom-molded cable assemblies, power cords, and cord sets for original equipment manufacturers serving a variety of end markets.
Atlas Copco Acquires Pumps & Compressors Distributor C.H. Spencer: Atlas Copco, a provider of sustainable productivity solutions, has acquired the operating assets of C.H. Spencer & Company Co., a U.S. distributor and service provider of industrial pumps, compressors and related products. C.H. Spencer is based in Salt Lake City, UT, and also operates in the states of Nevada, Wyoming and Idaho in the central U.S. The business is focused on distribution and service of industrial pumps, compressors and related systems for use in such areas as mining, municipal water treatment and general industry. About 40 employees are joining Atlas Copco.
Spokane-Based Stoneway Electric Acquires Industrial Distributor H.D. Campbell: Stoneway Electric Supply has announced the purchase of Kent, WA-based H.D. Campbell Company, an industrial distributor known for providing superior service and value-added support to OEMs and industrial customers in the Pacific Northwest since 1950. The transaction closed on Aug. 31.
ABB Buying GE Industrial Solutions for $2.6 Billion: ABB on Sept. 25 announced the acquisition of GE Industrial Solutions, GE's global electrification solutions business. GE Industrial has deep customer relationships in more than 100 countries and an established installed base with strong roots in North America, ABB's biggest market. GE Industrial is headquartered in Atlanta, GA and has about 13,500 employees around the world. In 2016, GE Industrial Solutions had revenues of approximately $2.7 billion, with an operational EBITDA margin of approximately 8 percent and an operational EBITA margin of approximately 6 percent. ABB will acquire GE Industrial Solutions for $2.6 billion; the transaction will be operationally accretive in year one. ABB expects to realize approximately $200 million of annual cost synergies in year five. ABB and GE have agreed to establish a long-term, strategic supply relationship for GE Industrial Solutions products and ABB products that GE sources today.
Brammer & IPH Complete Merger, Creating $2.6B European MRO Distributor: IPH and Brammer are combining to create a European leader in the distribution of industrial supplies. Advent International, which took Brammer private from the London Stock Exchange earlier this year, completed the acquisition of IPH on Sept. 15 to enable this combination. The combined entity, IPH-Brammer, will draw on the complementary strengths and legacies of both businesses to provide its customers with an expanded technical product range and offering, supported by an enlarged geographic footprint across Europe and strong brands such as Brammer, Minetti, Zitec or Orexad. With close to $2.6 billion in combined revenues and more than 8,000 employees, IPH-Brammer has operations in 23 European countries and will be headquartered in London. Pierre Pouletty, the former CEO of IPH, will serve as Chief Executive Officer of IPH-Brammer, alongside Hermann Maier, the former CEO of Brammer, in the capacity of Chief Operating Officer.
Core & Main to Acquire Minnesota Pipe & Equipment: Core & Main (formerly HD Supply Waterworks), one of the nation's largest distributors of water, sewer, storm and fire protection products, on Wednesday announced the signing of a definitive agreement to acquire substantially all of the assets of Minnesota Pipe & Equipment. The acquisition, which would be the first for Core & Main since becoming a freestanding enterprise this past August, will strengthen the company's position in the Minnesota waterworks distribution industry.