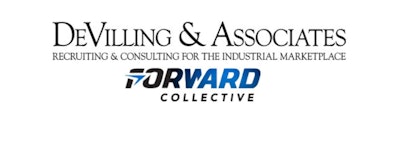 SARASOTA, FL and ATLANTA, GA — DeVilling & Associates and Forward Collective have announced their alignment of services to provide clients with more comprehensive resources to executive recruiting, strategic consulting, and marketing services.
Founded in 1999, DeVilling & Associates is a provider of executive recruiting for the Industrial and Construction distribution and supplier communities throughout North America. F.A. "Skip" DeVilling, President, stated "We look forward to expanding our services and contacts in the industrial & construction markets by forming our alliance with Forward Collective. Our combined knowledge of the market and personnel in our industry will bring a unique and unparalleled value to our customer base."
Founded in 2012 formerly as BeBranded LLC, Forward Collective provides strategic consulting and marketing services to clients within the ISA and STAFDA markets. "With a history of 20+ years of relationship building – this alignment came naturally. Forward Collective is excited to expand resources with such a trusted veteran in these markets. We believe this alliance will benefit both our companies as well as, our valued customers."
Please note that there is no change in ownership, as the alignment comes as a continuation of growth strategies for both companies. The partnership will also assure clients access to greater capabilities for accelerated growth.
For more information about DeVilling & Associates and Forward Collective:
F. A. "Skip" DeVilling
Founder-­President
DeVilling & Associates LLC
Skip@DeVilling.com
William Ward
Founder-­Partner
Forward Collective LLC
www@goforwardcollective.com