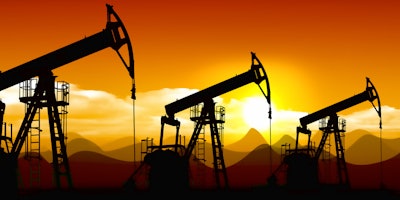 The active U.S. rig count continued its long-standing climb last week, adding another eight to a new count of 1,021.
It was the fourth-straight increase, coming three weeks after the count broke the 1,000 milestone for the first time in three years. The data from oilfield services provider Baker Hughes shows the U.S. added five oil rigs and three gas rigs last week. The current U.S. oil rig count of 825 is up 128 year-over-year (YoY), or 18.4 percent and matches its highest count since March 20, 2015. The active gas rig count of 195 is up 24 YoY, or 14.0 percent. The U.S. miscellaneous rig count remains at one.
The U.S. combined rig count has increased by 92 so far through 17 weeks of 2018, which has included 12 weekly gains and four decreases.
Of last week's combined rig count, Oklahoma added six, Texas added four, North Dakota added three, Louisiana and Ohio each added two and California added one. Alaska and New Mexico lost three each and Wyoming lost a pair, while Colorado, Kansas and Pennsylvania lost one apiece.
Below is the daily U.S. rig count provided by Drillinginfo on its DailyRigcount.com — a microsite that utilizes data from GPS tracking units and publicly-reported information to monitor oil and gas drilling rig movements in the U.S. Unlike raditional rig counts — such as those from Baker Hughes — typically define a rig as active only when it is "turning to the right," and have been released on Friday afternoons every week since 1944, whereas DailyRigCount defines a rig as active from the time a GPS tracking unit identifies it at a permitted oil and gas drilling location until the time it leaves, and is released daily.
Canada/North America
Canada's seasonal rig count decline continued last week, falling by eight to a mark of 85 per Baker Hughes' data. For reference, Canada's count hovered between 80-99 during April-May 2017. Canada's 85-mark Friday was the same it was a year earlier, with its oil rig count of 33 up by nine YoY and its gas rig count of 52 down by nine YoY.
Friday's North American combined rig count of 1,106 decreased was unchanged from a week earlier and was up by 151 YoY, or 15.8 percent.
Oil Price Update
The price of WTI Crude oil had an overall arc this past week, increasing Tuesday and Wednesday, cresting Thursday and then declining through Monday morning. Oil opened Monday, April 23 at $68.32 and briefly peaked at $69.35 Tuesday morning before falling sharply, closing that day at $67.61. Oil then gained throughout Wednesday and reached $68.74 Thursday morning before regressing again, spending the rest of the week in the low $68-high $67-range. Oil closed Friday at $68.10 and then opened Monday at $67.85. It fell as low as low as $67.23 Monday morning but was at $67.68 as of 9:05 a.m. CT.