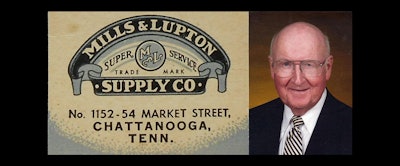 John Blaine Crimmins Jr., who served as president of Chattanooga, TN-based Mills & Lupton Supply Co. as part of a 38-year career with the company, passed away Friday, June 30 at the age of 88.
Mills & Lupton, which was acquired by Orlando, FL-based Hughes Supply Inc. in 1988, was an industrial distributor and manufacturer of power and industrial products that keyed the development of area industrial businesses during the Chattanooga area. Crimmins Jr.'s father was Mills & Lupton's first employee, having purchased the firm in 1933, and served as its president until he was succeeded by his son.
During the Cummins' leadership, Mills & Lupton increased its product offerings significantly and added separate divisions for industrial electrical, heating, plumging and roofing supplies. The company's Chattanooga warehouse stocked more than 40,000 different items at the time of its 1988 purchase. Mills & Lupton has sixty employees and additional branches in Cleveland, TN and Dalton, GA.
Cummins Jr. became well-known throughout the Chattanooga region, serving in many business and trade associations. He held terms as president for the Electric League of Chattanooga, the Westinghouse and Distributors Association, the Southern Industrial Distributors Association and the Industrial Committee of 100. He was a member and board member of the Mountain City Club and served as the 70th President of the Chattanooga Rotary Club.
Cummins Jr. also was quite active in civic and community activies. He was involved with the Boy Scouts of America, the Chattanooga Area Chamber of Commerce, the United Way and the University of Virginia Alumni Association. He served as a Director of SunTrust Bank of Chattanooga for more than 25 years.
See much more on the history of Mills & Lupton Supply Co. here, and Crimmins Jr.'s obituary in the The Chattanoogan here.