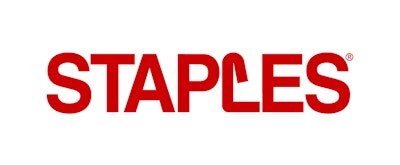 The new owners of Staples hope to fund the nearly $7 billion purchase of the office supply giant with help from a corporate restructuring.
The Wall Street Journal, citing sources familiar with the matter, reported that Sycamore Partners plans to split the company into U.S. retail, Canadian retail and corporate supply segments.
Those groups would remain under the same corporate affiliation but would be financed separately -- which, the paper noted, highlighted ongoing problems in the retail sector.
The sources told the Journal that USB, Bank of America and other potential backers would only support the corporate supply division, which distributes office supplies to corporate and government customers and includes Staples's delivery operation -- the company's most attractive asset.
Reports of Sycamore's interest in the company last month indicated that the private equity firm believed Staples could quickly shift its focus from retail consumers to corporate customers.
"We have tremendous confidence in CEO Shira Goodman and great respect for the Staples management team and are excited about this opportunity to partner with them to accelerate long-term profitability," Sycamore managing director Stefan Kaluzny said in a statement announcing the acquisition.
The retail divisions in the U.S. and Canada, meanwhile, would be financed in part by Wells Fargo and KKR, respectively, the Journal reported.