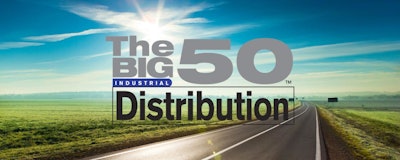 It's that time of year again.
Here at Industrial Distribution, we are currently making preparations for the 2017 Big 50 List — our annual ranking of the largest industrial distributors by worldwide revenue.
ID digital subscribers can find our Big 50 Survey invitation in their email inbox, on our social media networks (Facebook, Twitter, LinkedIn) or on the ID website.
For non-publicly traded companies, we use that survey data to compile our Big 50 List information. The Big 50 is based solely on each company's 2016 full year sales. The Big 50 will first be unveiled via a three-part video countdown in late August, followed by its feature in the September/October print issue and then the website article version a week later.
If you think your company should be considered for our Big 50 List, fill out the survey form here.
If you are not the appropriate contact for your company, please email ID editor Mike Hockett at mike.hockett@advantagemedia.com with the appropriate contact's name and email address so that we can update our records. We appreciate your help and look forward to considering your company for this year's list!